The 14th Conference of Presidents and Governors-General of the Caribbean Community of nations opened at the Pegasus Hotel in Kingston, Jamaica with pomp and ceremony.
As each each Head of State took their positions, their national anthems were played and flags hoisted behind them.
Sir Patrick Allen, the Governor General of Jamaica, extended a warm welcome to the Presidents of Trinidad and Tobago, and Dominica and to the Governors-General of Antigua and Barbuda, Belize, Grenada, St Kitts and Nevis, St. Lucia, St. Vincent and the Grenadines and the Bahamas – the last island to host the Conference.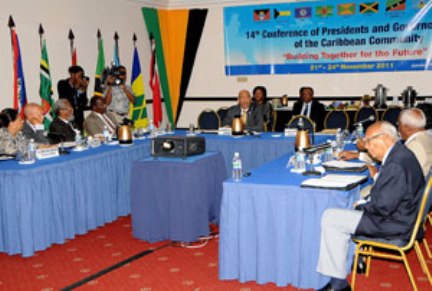 The theme of the Conference was 'Building a Future Together' and the focus was on exploring initiatives and activities to ensure a better future for the youth of the Caribbean Community of nations.
In Sir Allen's opening address he said, " I urge you fellow Presidents and Governors-General to commit to our offices and influence to reach our young people. They are the future of the Caribbean. We have to build in them confidence toward the future, an indomitable spirit, and defiance in the face of adversity and challenge.
"We must continue to remind them of our history and of their historic opportunity to carry on the struggles of our ancestors and their elders."
…prerogative and prestige …
Dr. Kenneth Baugh, Jamaica's Deputy Prime Minister and Minister of Foreign Affairs and Foreign Trade in his opening day contribution said,
"Although your executive functions are circumscribed by constitution and law, your capacity to influence, intercede and empower is broad in scope and rich in potential.
"You are consulted on most aspects of national life and your counsel and experience are valued and respected. You have the prerogative and the prestige to change the atmosphere in our nations and to lead our people into paths of truth and light that will illuminate and inspire"
In a working session on the second day of the four day Conference, Bruce Golding, former Prime Minister of Jamaica speaking on the evolution of duties of Governors-General said
"We in Jamaica have been fortunate to have had a succession of eminent, excellent persons who have been Governors-General, and who have helped to define that role and to give it new meaning and life."
Golding praised the distinguished way in which Jamaica's first Governor -General, Sir Clifford Campbell and his successors "have conducted themselves in office", and have positioned that office in a way that commands the confidence of both political parties and the society as a whole.
Other working sessions at the Conference included, "Governor General and Their Impact on Nation-Building", "Building Together for the Future", "Matters of Protocol", "Terms and Conditions of Service", The Centrality of CXC to Educational Development and Change in the Region".
…Diamond Jubilee…
In reflecting on the success of the Conference, Sir Allen said that during the course of the meeting, discussions on matters of protocol, conditions of service and the celebration of the Diamond Jubilee of Queen Elizabeth 11 were highlighted,
"I am sure whatever is planned by each country, will be of the standard expected of Caribbean Realm Countries and be appropriate for this historic event" he said.
In closing Sir Allen said feedback to his presentation has been overwhelming, " I think we are all agreed that we cannot look to the future without involving youth, taking a serious approach at how we relate, socialize and mentor the young people. It is a consensus among all of us that that aspect we have to give some critical attention to".
The Governor General went on to say the Heads of State are in agreement that to ensure a better future for the region, focus will be placed on initiatives and activities that surround the youth.