For Australian Marxists, changing the country into some sort of a politicians' republic would constitute a "mild democratic reform" which they believe to be worth pursuing. At least that's the view of the editor of Overland, the nation's most radical literary journal and founder of the Socialist Alternative, Mr. Jeff Sparrow.
Curiously, he puts aside any constitutional questions, including the reserve powers. Instead it's that an Aborigine can never be Queen or King.Don't be too sure about that, comrade. Our Royal House now includes a New Zealander from the Maori people.
According to one authority, Her Majesty the Queen is personally related, by blood ancestry, to more than 37 Royal Houses in Europe and Asia. Ukrainians in Britain have been granted permission to offer the Loyal Toast in this manner: "Ladies and Gentlemen – The Queen, Descendant of Saint Volodymyr the Great of Kyiv."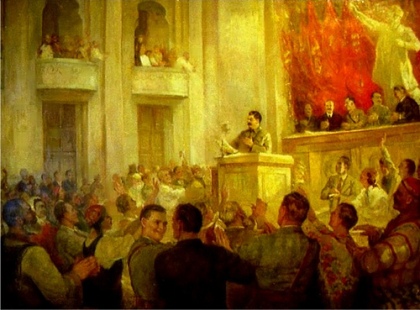 In an opinion piece in Crikey (30/4), republished in at least Overland (3/4)and Larvatus Prodeo (2/4)( named from an observation by René Descartes ), Jeff Sparrow rails against the succession to our throne which under the Act of Settlement does to descendents of the Electress Sophia of Hanover.
"If you're not David Flint," he quips, " you're probably asking what an electress is when it's at home. In many ways, that's the biggest problem republicanism faces — most Australians know little about the royal family and care less.
This Marxist republican offensive is not so surprising. We should not forget that after the nineteenth century movement for a racist republic, Australia's second republican movement was also Marxist.
Australian communists planned to convert the country into a soviet or people's republic along Soviet or East European lines. So in ACM's submission early this year on Senator Bob Brown's bill for the holding of a republican plebiscite at the next election, we said,
"In his Second Reading Speech on the Bill, Senator Brown said 'The question of whether Australia should be become a republic has been close to the hearts of many Australians since Federation.' Senator Brown was no doubt referring to a politicians' republic.
"It is curious then that no delegate at the Federation Constitutional Conventions proposed that Australia become such a republic. The republican historian, Dr Mark McKenna, says that '…the truth was that it was only through devotion to monarch and empire that Federation was able to take place.'
"It was not until the formation of the Communist Party of Australia in 1920 that any twentieth century political party called for an Australian (politicians') republic, albeit a 'workers and farmers republic' on the Soviet model."