ACM maintains a watching brief on relevant opinion polling. These are posted to our
section on polling
. This is a further report in that series.
---
In its online survey of 12 June 2012, Essential Research asks two questions. The first is "Are you in favour or against Australia becoming a republic?"
Although differing from the Morgan poll, the result will be very disappointing for republicans in relation to the overall vote, the youth vote, and the significant number according no opinion.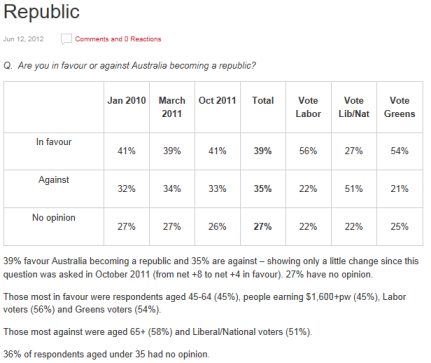 "A republic" presumably means any form of what we would call a politicians' republic. As we know, republicans are irrevocably divided as to is a form of such a republic.
This mean that a number of the 39% indicating that they are in favour of Australia becoming a republic will always vote no in a referendum.
This is because the Australian referendum requires that the specific changes proposed to the constitution be made available to the people before they vote.
Add to this the fact that opinion polls usually produce a more favourable yes vote than the actual vote recorded in a referendum. This is probably because people have by then had the opportunity to hear the debate by both sides, and because they treat the actual vote as a more serious exercise.
So if a referendum were held now on any Republican model it is likely that the yes vote would, as a percentage, be in the low 30s or even in the 20s.
The poll reveals that among the age groups, the middle-aged are more strongly republican than the young. This is consistent with most other polls.
A large number of respondents, 27%, register no opinion. This rises to 36% among the young. On past experience, most of these will vote no in a referendum. A dismal result for republicans.
…but is a republic likely?…

The second question asked was is "Do you think that Australia is likely or unlikely to ever become a republic?A clear majority, 52%, think it likely. But when this is broken down only 12% think this very likely.The younger voters are more realistic, being almost equally divided on this.