This comment from a republican was posted on ACM Facebook today in favour of a plebiscite:
A Referendum was passed to create a Federation. One question: Do you support the Australian Colonies federating into one central National Government.
What's the difference if a Referendum was held asking a similar question of whether the Australian people support a Republic?
…the facts…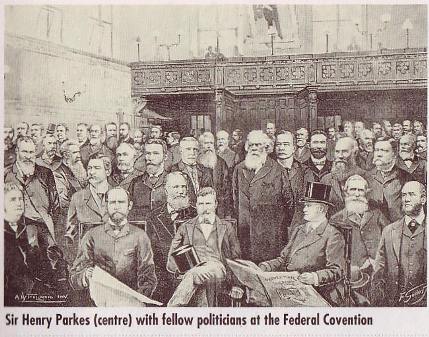 This is not what happened. This is an invention.
The people voted in 1898-1900 on a specific federation model set out in the bill which was intended to be sent to London for enactment.
The facts may be found in the authoritative book, The Annotated Constitution of the Australian Commonwealth by John Quick and Robert Randolph Garran, 1901 , pages 206-228.
A summary of the facts may also be seen in Fact Sheet No.1 THE REFERENDUMS 1898-1900 of the Australian Electoral Commission.

…a series of referendums with a federation model…
o
Under the 1891 Convention and under the Corowa Plan 1893, any proposed Australian Constitution was to be submitted for the approval of the electors in each colony.

When the 1897 Convention completed its work in 1898, the referendum process began.
The draft Australian Constitution – for an indissoluble Federal Commonwealth under the Crown – was put to voters as the Commonwealth Constitution Bill. This was not a vague abstract question, but a very specific model.
Copies of the draft constitution were freely distributed to the electors. Summaries and comments were also published.Those who supported it were known as 'Billites', those who campaigned against it as 'anti-Billites'. A strong argument in favour of Federation was the abolition of trade barriers between the colonies.In 1898 referendums on the Commonwealth Constitution Bill were held in New South Wales, South Australia, Tasmania, and Victoria. A majority of 'yes' votes was recorded in each colony but in New South Wales the enabling legislation required a quota of 80,000.
…second round…

This was not achieved. After an election in New South Wales, a Premiers' Conference approved amendments to the Constitution. A second round of referendums was held, New South Wales requiring only a simple majority of 'yes' votes.
Queensland also joined the process. Majorities were achieved in all colonies.
By 1900 Western Australia had still not taken steps to hold a referendum. In protest, residents of the Eastern Goldfields took steps to form a separate colony.
Finally, on 31 July 1900, when the Commonwealth Constitution Bill had already been enacted by the British Parliament, a referendum was held in which a large majority voted in favour of Federation.
The referendums were nothing like the plebiscite suggested by the post on the ACM Facebook. Australia has in fact never used plebiscites to resolve constiutional issues.