Soon after its inception, ACM encouraged supporters to buy stamps which featured The Queen and the Crown generally, and congratulated Australia Post for its superb issues. Given the number of supporters registered with ACM for the referendum, this must have had a considerable effect on sales.
To its credit Australia Post continued these issues even when the republican campaign was at its height. There is now some exciting news from Australia Post. To coincide with London 2010 Festival of Stamps show held from 8 to 15 May 2010 Australia Post has released four distinctive miniature sheets, overprinted with the London logo,for the show.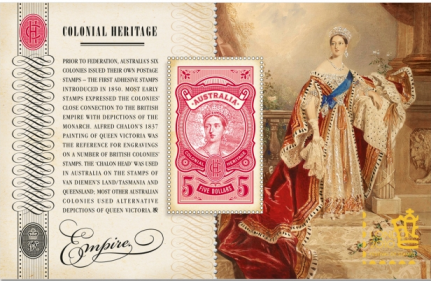 Empire is the first in a series commemorating Australia's early philatelic history.
Prior to Federation and the release of Australia's first national stamp issue in 1913 the six former colonies issued their own stamps. In 2013, Australia will celebrate the centenary of its first Commonwealth postage stamp issue, the Kangaroo and Map. This will coincides ith a world stamp exhibition, to be held in Melbourne.
This $5 stamp reinterprets the original "Chalon head" designs of Van Diemen's Land/Tasmania and Queensland (in circulation from 1855 to 1892 and 1860 to 1913 respectively). The portrait of Queen Victoria is based on Alfred Chalon's 1837 painting of the young Queen in her coronation robes. Chalon's painting, now in Belgium's Royal Collection, is reproduced on the miniature sheet.

This high-denomination stamp has been issued in double-definitive size. It is printed on paper bearing a simulated watermark – the series monogram, "CH". The issue is accompanied by a miniature sheet, a special edition of which is printed in both offset and intaglio.
In the meantime the popular Queen's Birthday stamp is still available.

These stamps are now available at participating Australia Post retail outlets, via mail order on 1800 331 794 or online at www.auspost.com.au/stamps