Last month, a proposed new constitution to replace Queen Elizabeth II, The Queen of St. Vincent and the Grenadines, with a president in a politicians' republic was overwhelmingly rejected by the people. (The new constitution would have also revived the death penalty, which, it is said, was a very popular measure.)
Timed to coincide with The Queen's presence in the West Indies at the Commonwealth Conference, this proposal received minimal attention in the Australian press. It has been ignored by proponents of an Australian politicians' republic.
Would it have been different if it had been passed?
A reader from Canada has drawn our attention to the St. Vincent and the Grenadines official government website. Curiously, we could only find arguments there for a Yes vote.
In any event, as our reader says, "…the people have spoken. The politicians have been left out in the cold, which must be a real feat given their sunny locale."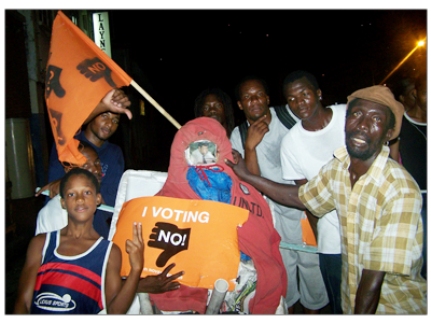 Our reader gave this example of the government's "fair and unbiased canvassing" from their website: "Among the key issues voters are being asked to vote is whether the country should ditch the Queen in favour of Republican status." Ditch?
There is also a predictable reference to a "foreign Queen." This recalls the practice of Australian republicans who use the term "foreign" in a pejorative and incorrect way about our Sovereign and about the multicultural personal union between the sixteen Crowns of the Commonwealth. How insular.
He points out that the "YES" on the page is placed prominently in the centre, while the "NO" is out of focus. "All the more proof positive and confirmation that megalomaniac politicians should be kept at bay," he warns.
We agree.
Incidentally, the site of the Realm's journal of record, The Vincentian, has published the following comment from ACM:
"Warm congratulations from Australia to the wise people of St. Vincent and the Grenadines. A proposal ten years ago to establish a politicians' republic in Australia was defeated by a roughly similar national vote. It also failed to obtain a majority in a majority of states – every state voted NO as did 72% of electorates. This was despite a massive very well funded campaign by almost all of the main stream media and two thirds of the politicians, state and federal. We Australians are happy to live in our Federal Commonwealth under the Crown, our Crowned Republic. We wish the noble and wise people of our fellow Commonwealth Realm, St. Vincent and the Grenadines, all the best"