Crowds of screaming young are expected to mob Prince Harry when he visits America to carry out his first formal overseas engagements, reports Sarah Hughes, Sky UK's Royal correspondent .( "Prince Harry To Take Bite Out Of Big Apple", 13/5)
If anyone doubts such a reaction will occur, recall what happened when the Prince trained briefly in Canada. Just glance at the report here, "Wild about Harry," 4 June 2007.
This sort of news must really worry those notoriously unethical sections of the British press, who try to make all news about the Prince fit into an appallingly vicious and erroneous caricature.
This has extended to not only deliberately misleading their readers but also in engaging in criminal activity ("Crime and punishment," 27 January 2007; "Republican media score own goal," 13 August 2006)
The two-day tour will begin on Friday, 29 May at the site of the World Trade Centre where the Prince Harry will meet the families of some of those killed in the 9/11 attack. He will be joined on this part of the visit by a young British serviceman who was wounded in Afghanistan.
He will lay a remembrance wreath and then name the British Garden at Hanover Square, which commemorates the 67 British people who died in the attacks. He will then attend a reception where he will meet more relatives of UK and US victims.
The Prince will then visit the Veterans Affairs Medical Centre in Manhattan, where he will tour the advanced prosthetics facilities and visit a post-traumatic stress disorder treatment clinic.
He will also take part in the Veuve Clicquot Manhattan Polo Classic on Governors Island to raise money for his charity Sentebale.
It is unlikely he will have much time for social activities. "I think he'll be cream-crackered to be honest with you. "It's 36 hours on the hoof… a lightening visit," a spokesman said.
The Private Secretary to Prince William and Prince Harry , Major Jamie Lowther-Pinkerton, said: "Having served in Afghanistan last year and having got to know US servicemen and women he wanted to learn more about American veterans organisations and see what lessons can be learned on either side."
Sir Alan Collins, HM Consul-General in New York, added the Prince is "well known and respected" in the the US for having deployed alongside US forces in Afghanistan.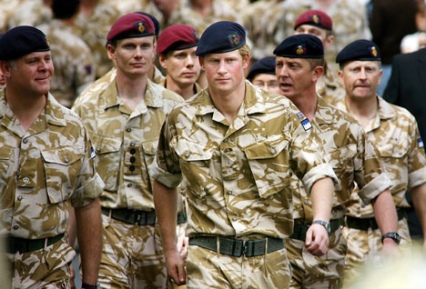 Sir Alan is correct. We reported in this column ( "Prince Harry: honour, Duty and Service") on 3 March 2007 the comment of Marie Cocco who was impressed by the fact that "England sends its prince into battle." She contrasted this with what was happening in the great aristocratic families of the American republic.
We also reported the staunch Australian republican, Dr.Gerard Henderson, writing in The Sydney Morning Herald in his column on 4 March, 2008 "You don't have to be a monarchist to admire the courage of Prince Harry in demanding to serve with British forces on the front line in Afghanistan."
He said that the Prince could have easily have avoided active service against the Taliban in Helmand province, one of the dangerous areas in southern Afghanistan. "But he chose to do his duty."
Prince Harry and his brother Prince William have taken a keen interest in the welfare of injured soldiers. Last year they visited Hedley Court rehabilitation centre in Surrey and raised funds for the British veterans charity Help for Heroes with their City Salute pageant.

On Saturday morning Harry will be joined by Prince Seeiso of Lesotho, who is co-patron with him of the children's charity Sentebale, which supports orphans in the African kingdom of Lesotho. The two princes will visit the Harlem Children's Zone, a school and support centre for young people which was visited by the Prince of Wales and the Duchess of Cornwall several years ago.
The polo match will follow, but Prince Harry will have to miss the post-match ball and fly back to the UK overnight on Saturday so he is ready to resume his military duties on Monday morning where he is training to be a helicopter pilot in the Army Air Corps.
The Prince will travel on scheduled flights to and from New York and the cost of his visit is being met privately by The Queen.