The IRA, whose leader came to Australia to campaign for a Yes vote in the 1999 republican referendum, has turned on their old ally and arms and Semtex supplier, Muammar Gadaffi.
Semtex was used in the bombs the IRA planted across Britain during its Europe wide terrorist campaign. This and shootings resulted in the deaths of 1800 people including two young Australians who were murdered in Holland.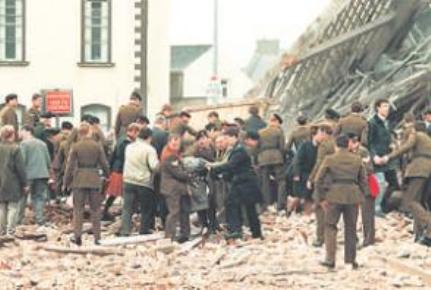 According to Liam Clarke in The Belfast Telegraph " Sinn Fein in Gadaffi U-Turn: Despot who backed IRA denounced by republicans" (23/2):
[Continued below]

Gaddafi, who deposed King Idris of Libya in a bloodless coup in 1969, started supporting the IRA in August 1971 after he saw Joe Cahill, then its chief of staff, give a defiant televised Press conference inwhich he said only 30 IRA members had been arrested in the internment swoops.
Regarding the IRA as an enemy of colonialism, he started supplying it with weapons.
Gaddafi brought Cahill to Tripoli, the Libyan capital, to arrange the supply of arms and money.
Cahill was arrested aboard the MV Claudia with five tons of Libyan weapons in 1973. The most significant arms shipments were delivered in 1986 after the US accused Gaddafi of sponsoring an attack on American soldiers in Germany and bombed Tripoli from bases in Britain.
Around 60 Libyans were killed and Nasser Al-Ashour, a Libyan intelligence agent, again made contact with the IRA. This time up to 400 tons of weapons were landed in three shipments before the final
consignment of 120 tons was seized when the MV Eksund was intercepted crossing the Bay of Biscay by French Customs in 1987.
The weapons and munitions which had already landed, including heavy machine-guns and Semtex explosives, equipped the IRA for the remainder of its campaign.
Later Gaddafi made peace with Britain and gave complete inventories to the UK authorities of the arms he had supplied.