The decision by Thailand's Constitutional Court against the ruling party has effectively dismissed the Prime Minister, Somchai Wongsawat. He is the brother-in-law and probably the surrogate of Thaksin Shinawatra, the exiled billionaire former prime minister who once owned the Manchester City Foot ball Club.
Thaksin Shinawatra was overthrown by a military coup and subsequently tried in absentia. He was found guilty of abusing power, Amnesty International accusing him of being "a human rights abuser of the worst kind."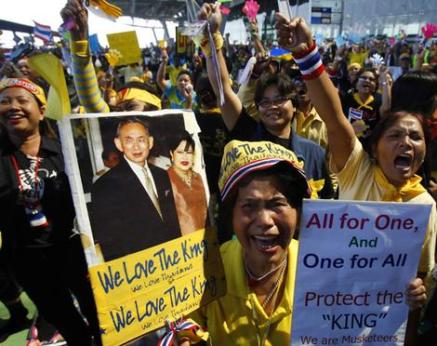 As a result of the fall of the Wongsawat government, the anti government protesters agreed last night to end the siege of Bangkok's main international airport in response to Mr. Somchai's dismissal.
Thai officials said the airport could be open for flights by Friday, 5 December, 2008, the 81st birthday of King Bhumibol Adulyadej, according to a report from Lindsay Murdoch in The Sydney Morning Herald (3 December). He added that the protesters believe Thaksin Shinawatra wants to end the monarchy and establish a republic. The King remains highly respected and the unifying force in the nation.
The politicians in the ruling party are likely to come together in a new party and remain under the influence, even the control of Thaksin Shinawatra.
Whatever happens, The King will remain the central and unifying influence in Thailand.