To what extent are our votes stolen by fraud? This should concern all of us, and the media should of course keep us closely informed. We now have the opportunity to learn from an English judge who found massive fraud and fears further potential for fraud in the UK.
In what he said would disgrace a banana republic, Richard Mawrey QC, sitting as a High Court judge, found six Labour councillors guilty of electoral fraud in the 2004 Birmingham Council election.
Mr. Mawrey QC is to speak at a seminar aptly titled "Easy voting is fraudulent voting." It will be held at Parliament House Sydney on Thursday 25 February from 12 noon to 2.30 pm. Organised by the H S Chapman Society,ACM is delighted and honoured to be the co host for the seminar.
There will also be a seminar in Canberra on Monday 22 February in the Senate Wing Theatrette at Parliament House at 6.00 pm.
We assume that members and the press gallery in both cities will follow these with close interest, and inform the people of the dangers of electoral fraud.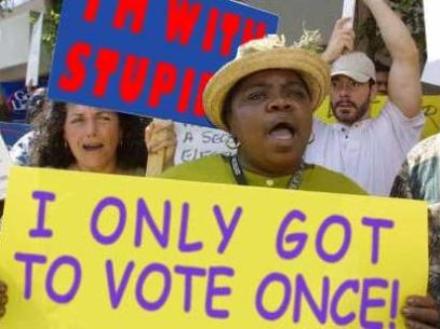 According to a report by Nick Britten and George Jones in the London Daily Telegraph on 5 April 2005, Mr. Mawrey QC found that the councillors were responsible for a "massive, systematic and organised fraud" which was supported by the local Labour Party.
He attacked ministers who dismissed warnings about vote rigging in the forthcoming UK general election as "scaremongering" and said the system that the then Prime Minister Tony Blair was encouraging the public to use was "hopelessly insecure".

"There are no systems to deal realistically with fraud and there never have been," he said. "Until there are, fraud will continue unabated".
….it wouldn't be tolerated for credit cards…
We had been concerned about the potential for fraud in the 1998 Constitutional Convention election which was postal, and whether what we suspected from anecdotal reports of misbehaviour would be repeated in the referendum.
At a function at Parliament House in Sydney during the 1999 campaign, I asked the speaker, the noted psephologist Malcolm Mackerras if he could estimate the percentage of fraud likely in the referendum.
Professor Mackerras said he thought there would be some, but that the vote would be so clear it would not determine the issue.
Since then there has been an increase in postal and other declaration voting. It is now sufficient, some think, to determine an election, or indeed, a referendum or plebiscite.
(The precise grounds for granting a postal or pre-poll vote are set out in , in Schedule 2 of the Commonwealth Electoral Act, 1918)
The Electoral Commission denies the existence of widespread fraud in elections, but critics say that if such an open system existed in relation to say, credit cards, it would be an invitation to fraud and is therefore not allowed.
Apart from postal and other declaration voting, the other potential for fraud arises from identification at registration and on voting.
And is it not extraordinary that when a name is ruled off in one polling station, it is not ruled off immediately in all booths? The technology for that has long existed.
Given the profligacy with which governments spend taxpayers' money, cost could hardly be a serious barrier to adopting such a measure.
The lack of action has a certain unpleasant odour about it, does it not?
Attendance at the Sydney event costs $30, payable by cheque to the H.S. Chapman Society, PO Box 159 Rose Bay, Sydney 2029.
Enquiries may be made to that great champion of fair elections, Dr Amy McGrath, 02 9599 7915, [email protected] www.hschapman.org
Australians should be indebted to Dr. McGrath and her colleagues in the HS Chapman Society for their long and lonely campaign for fair elections, so fundamental to democracy.