A call to install Julia Gillard in Melbourne's beautiful Government House is surprising. Under a proposal being pushed by the prominent republican Eddie McGuire, the Governor, Professor David de Kretser, would be expelled from Government House. This would then be "spruced up" for Ms. Gilllard.
Mr. McGuire played a leading role in promoting republicanism and was a leading republican movement delegate at the Constitutional Convention. He presented the republicans' case on national television.
He apparently wants Victoria to follow the disastrous lead set by former NSW Premier Bob Carr, now a Macquarie Bank consultant. He had claimed this would result in cost savings, but in actual fact it proved more expensive. He also claimed the move would make both the building and the office of governor more accessible, and the governor would work part time.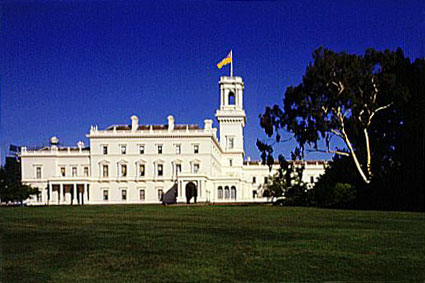 But after leaving office Mr. Carr admitted that the reason for throwing out the Governor out of Sydney's Government House was the existence of the reserve powers.
The reserve powers are exercised as a check and balance on the politicians. In extreme cases they can be used to remove a politician acting illegally or unconstitutionally.
...republican movement targets Victorian Governor…


In the meantime a republican movement spokesman recently attacked Professor de Kretser over an advertisement for staff. The republican argument, reported in The Herald Sun (17/6), seemed to be that the Governor should himself cook and serve the meals for visiting Heads of State, Ambassadors and the like.