For the first time since the referendum, former High Court Justice, Michael Kirby, will be speaking on the constitutional monarchy.
Michael Kirby has been an outstanding supporter of the role and function of the Australian Crown.
He will be speaking at a special dinner in Adelaide, arranged by South Australian Convenor, Michael van Dissel, and ACM Patron, Nick Minchin.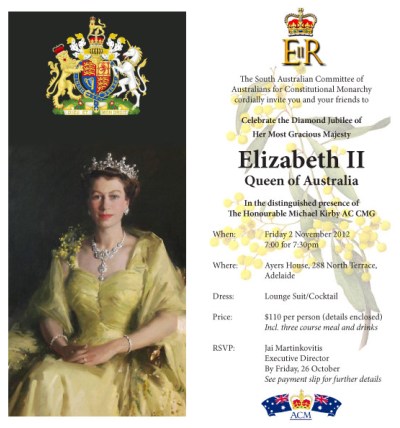 To download the invitation, click here.
The dinner will be held at 7.00pm for 7.30pm, on Friday 2 November 2012. The venue will be Ayers House, 288 North Terrace.
Tickets are $110, which includes a three course meal and drinks.
Registrations have been extended until close of business, Tuesday, 30 October 2012, using the payment slip below. Due to the late stage, you must also advise your booking on (02) 9251 2500.

To download a payment slip, click here.