This Sky News report of 29 November 2010 is of a smooth and gracious transfer of power as a result of the Victorian elections on 29 November 2010.
Australians will be grateful once again in seeing how well our constiutional system works, despite republican campaigns against the Governor.
The outgoing Premier, John Brumby, was dignified and gracious in conceding defeat. He has always been a most courteous man and he maintained this superbly in his departure.
The victorious new Premier Ted Baillieu exercised considerable restraint .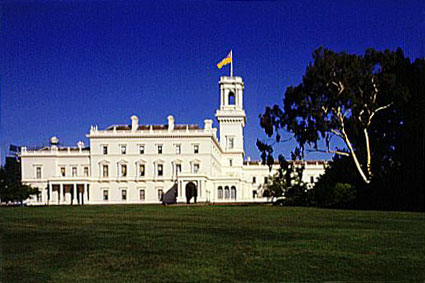 The Governor Professor David de Kretser, the subject of a vicious attack by the republican movement and a campaign to move him out of Government House, played the role of constiutional guardian superbly.
…republicans attack Governor, proposing he move out for Ms. Gillard….
We cannot understand why the republican movement launched this personal attack on Professor de Kretser. This suggests the republicans would expel future Victorian Governors from Government House. One republican, prominent in the campaign in the nineties, is campaigning that it become the Melbourne home for Julia Gillard.
So Government House Melbourne would be home for a republican politician from Canberra
.
This campigning is compounded by the fact that the republican movement is unable to tell the people how they propose to replace the office of Governor who as the representative of the Australian Crown provides leadership above politics .
We note however that those who control the republican movement seem to have now ruled out the direct election by the people of Governors.
So will the republican governors be appointed by Canberra?
It is curious that while the republicans campaign against one of the world's most stable systems they still cannot give the people chapter and verse about what they want concerning the constitution and the Flag.
And of course, without the details no one knows how much this will cost.
{youtube}3dlGzxyluYY{/youtube}