The Federal government announced on 7 April 2009 that it would establish a company to build and operate a new super-fast National Broadband Network (NBN).
The new network will utilise Fibre-to-the-Premises (FTTP) technology, supplemented with next generation wireless and satellite technologies to deliver superfast broadband services. It is estimated the cost of the network will be $43 billion dollars.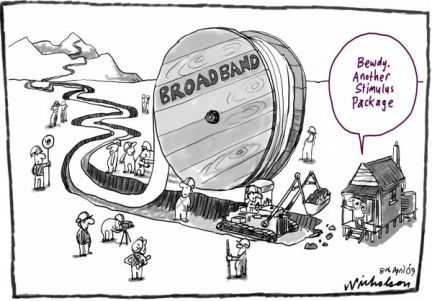 [Cartoon by Nicholson from "The Australian" newspaper: www.nicholsoncartoons.com.au ]
A government owned company NBN Co was established on 9 April 2009 to roll-out and operate the network as a wholesale only company and to provide access to the NBN to all retailers on an open and equivalent basis.
As with any major government project, the NBN may face a constitutional challenge or challenges.
When I was asked to comment about this for one online report, The Martinkovits Report, I enumerated five areas for possible challenges.
…the Constitution…
I make that point to emphasise that any such challenge or challenges to the NBN will not necessarily succeed.
In many such cases it is of course difficult if not impossible to predict the result. It is however helpful to know where the challenges could be. There may well be others.
To read this report click here.