ACM will be holding its National Conference in Sydney from Friday evening 24 to Sunday 26 August, 2007, the eighth since the 1999 republic referendum. The Conference theme is "The Indispensable Crown: The Way Forward." The Conference will be opened on Saturday 25 August by the Hon Dr Brendan Nelson, MP, HM Australian Minister for Defence. There will also be a drinks party on Friday evening 24 August, and a visit on the morning of Sunday 26 August to see the State Coach Britannia designed and constructed by Mr. Jim Frecklington, OAM, who built the 1988 Australian State Coach [pictured below]. This was our bicentennial gift to The Queen, and is to be seen frequently on great occasions in London.
The conference sessions on Saturday 25 August will concentrate on "The Way Forward," how ACM can ensure that our heritage – the constitutional system, the role of the Crown in it, and our flag – can be handed on to and revered by future generations. There will be an emphasis on the challenges ahead, the need for education, the role of the young and the ACM Communications strategy. There will be reports and information from the State and Territory Divisions as well as the Branches, and opportunities for supporters to put their views and to ask questions. Later on Saturday, the ACM National Council will meet, and with the benefit of the day's discussion, review our strategies for The Way Forward.
On the Saturday evening, 25 August there will be a dinner at which delegates will hear an address from the successor to Kerry Jones and Tony Abbott as ACM's National Executive Director, Mr Thomas Flynn.
At 915AM on Sunday 26 August, buses will leave the city to see the State Coach Britannia at the School of Artillery in Manly. (Delegates may go there in their cars if they wish).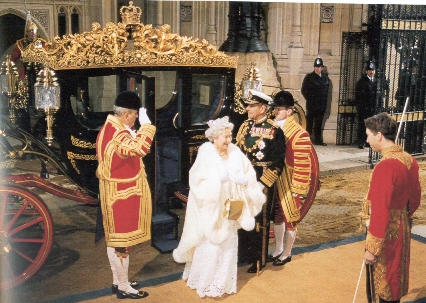 It is well worth saying a few words about the object of our Sunday excursion. With its unique mix of opulence, artistic beauty, and the most modern technology, the State Coach Britannia is sure to create great interest when it arrives in the UK, and not least because of its Australian origin. By including valuable fragments from Britain's history, slivers of material from the great cathedrals, palaces, ships, and even RAF planes from the Second World War, Mr Frecklington has made the coach a time capsule of remarkable importance. Unlike other time capsules, this one will not to be hidden but will be seen on great occasions as a reminder of the common history of the English speaking peoples. (For more details see "A carriage fit for a Queen," 18th June 2006 on the ACM website).
The registration fees for the Conference have been kept as low as possible with a full package costing $225 (Concession $205.00). In addition there are special prices for those who wish to go to only part of the Conference. For further inquiries and registration, please contact the National Office or email [email protected]