So far this year we have had successful functions with Archbishop Hepworth on the Accession, British judge Richard Mawrey QC on electoral fraud and Sir David Smith on the Head of State.
We do not know how this year will develop.
…Bob Hawke to PM: Move now on politicicans' republic….
We certainly did not expect Ray Martin to launch a push for a new flag. Nor did we know that Bob Hawke has been putting pressure on Kevin Rudd to hold a referendum or a plebiscite now on a politicians' republic to take effect at the end of Her Majesty's reign , a proposal we have slammed in the media as "disgraceful, meaningless and irresponsible."
We have been using the latest technology effectively to counter these and other republican moves, our website receiving even more hits than before – and last year was a record.
Indeed the site has been described as probably the most active constitutional monarchist site in the world.
This has allowed us to make a significant impact on the debates both about a politicians' republic and the flag.
We have two functions coming up in the theatrette in the NSW Parliament.
….Once more unto the breach….
On Friday 28 May we will have a lunchtime briefing "Once more unto the breach, dear friends, once more…"
This will be about the constitutional context against which the nation's political battles will be waged over the remainder of the term of the 42nd Federal Parliament.
We will soon have a federal election, but we do not yet know when it will be and whether it will be a double dissolution.
In addition we may have a referendum and we may have a plebiscite. Download more information here.
… Constitution Day…
Then on Thursday morning 8 July, 2010 a new version of Nick Hobson's Beginner's Guide to the Australian Constitution will be launched. This is especially appropriate; it is the day before Constitution Day when Queen Victoria assented to the Constitution Act.
Nick Hobson DFC AFC is a retired RAAF Wing Commander who has long been active in the defence of the Australian Crown as the first Company Secretary of ACM, setting up its IT system and then in applying the latest technology to educate Australians, young and old, about our constitutional system. This includes the excellent website www.statusquo.org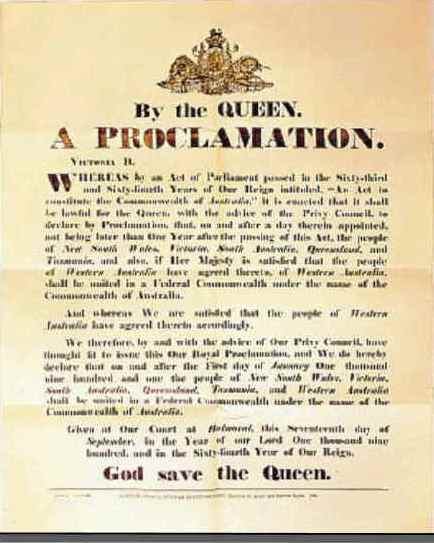 The aim of the guide is to foster an interest in the Australian Constitution and other related constitutional documents.
The re-development of the guide has taken place over the last 18 months and contains a package of 16 movies. The Constitution movie will be shown along with all the other movies at the launch. The higher quality images in this version are brought to life on the big screen in full colour, combined with background music and professional narration by radio personality John Kerr.

Download more information here.
Enjoy a couple of hours catching up on your constitution on Friday 28 May and Thursday, 8 July 2010.