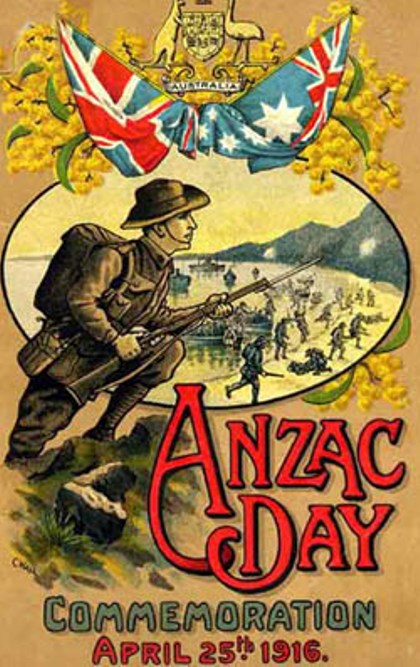 "We don't remember that much about the Australians' long campaign in France and Belgium," wrote Les Carlyon, author of that magnificent book "The Great War " reviewed in this column on 18 December, 2006.
This piece appeared in the Daily Telegraph on 25 April, 2008 as "True meaning of Anzac spirit."It is a marvellous summary of the contribution men made in that terrible war as they fought for God King and Country.
Some 8700 Australians died on Gallipoli; more than 45,000 died in France and Belgium (more than the Australian death toll from all theatres of World War II).
"Our citizens' army, five divisions, all volunteers, hundreds of thousands of them, for three years tramped up and down France and Flanders, "going up to the firing line, being mauled, then coming out, taking in reinforcements, then going back. Time after time, year after year," writes Mr. Carlyon.
"We, their countrymen, didn't see them.
"The Germans sometimes sat in their shallow trenches waiting to surrender. They had never done this on such a scale before. And if they saw Australians coming, they knew they were going to be robbed.
"THE French did. They saw them coming out of battles, lanky men in loose-fitting khaki sprinkled with the chalk dust of the roads, big-eyed and white-faced. They saw them, loud and ruddy cheeked, roistering in the cafes, where they decided that vin blanc should be pronounced "plonk". They saw them fishing in the Somme canals with a novel piece of tackle called a hand grenade. And they saw them marching off to the next battle.
"That's what the Australians did for three years. They went back and back, and it is hard for those of us brought up in a softer world to understand how they did so without going mad, which of course many of them did, as their families discovered in the 1920s."