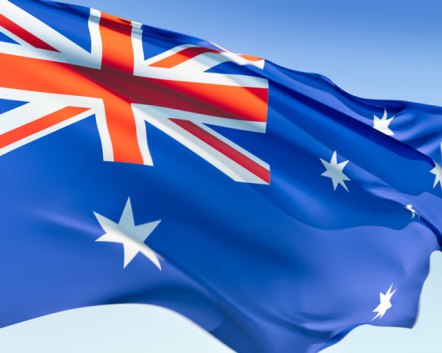 We are delighted to see Mr. Rudd has apparently heeded our concern that when he and other ministers appear beside the flag while campaigning on some or other policy, the flag was being pinned back.
The result is the flag does not fall naturally and gracefully. In this contrived position we can only see the federation star.
The Age seemed to approve of this practice on 22 August 2008, in "Time to change the flag." We wonder whether the new editor has a different view.
In any event the previous practice seems to have been adandoned.
….the flag and the UN Security Council…
That said, we regret that on his attempt to fly the flag in New York, the Prime Minister was not so successful.
"Kevin Rudd may need to brush up on his famed diplomatic skills if he wants to win Australia a seat n the UN Security Council, "writes DD McNicoll in his Strewth column in The Australian on 25 September, 2008.
For some reason this does not appear on the web version of Mr McNicoll's column. We cannot imagine why.
"Just as he begins his diplomatic offensive, Australia has just had a humiliating loss in a flag flight with the current members of the council.
"Each of the two times he has visited the UN headquarters as Prime Minister in the past six months, Rudd has insisted on holding his press conference at the photogenic spot in front of the flags of the permanent and temporary members of the Security Council – an area normally kept for "rush –throughs" as the Secretary –General rushes from one crisis meeting to the next.
"After meeting World Bank president Robert Zoellick on Tuesday, Rudd's press conference was to be in front of the flags again, and he wanted to bring his own.
"An Australian Flag, complete with a threatening javelin- like staff was brought through security and put to one side of the Security Council's members' flags.
"But there's a jealously guarded protocol about displaying non- members' flags – and we won't be a member until at least 2013 if successful.
"UN officials stepped in, and the Australian flag was ordered out if sight."