The evening of 6 November, 1999 and the results of the republic referendum are pouring in.
Refused their usual meeting place at the Sydney Town Hall by republicans who actually used ratepayers' funds to line the streets of the city with banners calling for a Yes vote, Australians for Constitutional Monarchy gather at the city's Darling Harbour Convention Centre to await the results.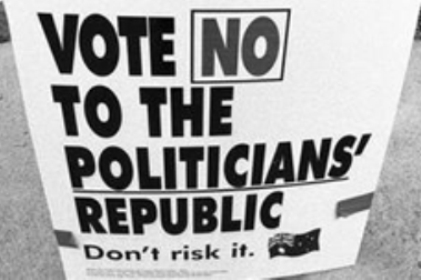 …early call…
Earlier in the evening, on the balcony of the Opera House – overlooking the harbour front area where the republicans are already celebrating what they assume will be a great victory, Professor David Flint is asked by the BBC to comment.
The polls have only closed in the Eastern States a little over one hour, but he calls the result correctly:
"It already looks like a landslide… for the No case."
Republican youth spokesman, Jason Yat-sen Li is also being interviewed by the BBC.
He looks at Flint in amazement and "does a double take."
But Flint is correct. He takes a water taxi back to Darling Harbour to join other constitutional monarchists.
…Tony Abbott's succinct assessment…
In this clip Flint is shown with David Elliott, ACM's National Campaign Director.
He embraces Kerry Jones, ACM's National Executive Director and Chairman of the Official Vote No Committee.
Kerry is the heroine of the night.
Tony Abbott MP, first Executive Director of ACM and now Leader of HM Loyal Opposition, comes on and succinclty and correctly assesses the meaning of the referendum.
{youtube}n6MxxGlzze8{/youtube}