Among the many emails that come into the ACM office, one from Saskatchewan this week reminded us that when The Queen visited Canada last year it was projected that 30,000 would show up on Parliament Hill for the Canada Day celebration of which HM was present.
Instead at least 100,000 showed up, some estimated it closer to 150,000.
" And they say no body is interested anymore in the Monarchy," said our Canadian reader.
Then an Australian reader reported that when she and her friend tried to see "The King's Speech" at Sydney's Macquarie Centre last week, they found "a queue a mile long, and we couldn't get in. We plan to go some other time. It's obvious that the subject of royalty is alive and kicking!"
And if this isn't enough, ACM has solid evidence that people are very much interested in the constitutional monarchy
The only time ACM called a demonstration, we filled Sydney's Macquarie Street. It was one of the largest peaceful non- union non- political demonstrations the city has seen.
The republicans' two attempts to bring out the crowds were not just dismal. They were excruciatingly embarrassing. I almost feel sorry for them, but the schadenfreude overpowered which lurks within all except the saintly overcomes me.

And I have the full details if any republican is unwise enough to challenge me.
…stop blaming John Howard, says republican..
Now Melbourne Herald Sun journalist Baz Blakeney has called for Australians to change the constitution ("Pencil in a republican rallying cry" 12/1).
"I know republic is a dirty word these days," he says.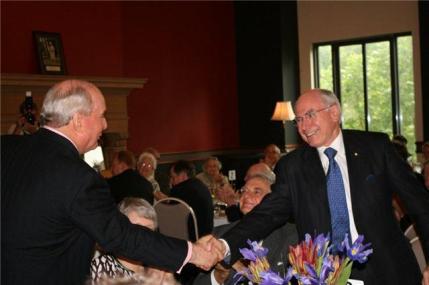 He is not impressed by the usual whinge that:
"John Howard derailed the republic by splitting the vote between those who wanted a directly elected president and those who wanted one appointed by Parliament."
He says: "I don't buy it. We could have voted for any republic and fixed up the details later."
In the referendum campaign, ACM argued – using the published opinions of leading republican experts, including some who were calling for a Yes vote – that the 1999 model was fundamentally flawed.
This was being taken seriously by the thinking public – after all we had chapter and verse from the mouths of leading republicans, including Knights of the Realm, a former Governor-General, former judges and others.
So as polling day approached the then Leader of the Opposition Kim Beazley announced yet another change of policy for the Yes case.
(In 1999 the republicans had several major spokesmen who often contradicted one another. As one of the prominent republicans told me later, he was surprised that this never happened in the ACM camp, nor in the wider Vote No camp.)
The new Vote Yes policy Kim Beazley announced was to say to the people: "Well, perhaps there are problems with our republic – but we can fix them up later."
It is difficult to believe now that anyone would go to the people and say that.
But the republicans did. They also told ACM how to campaign.
…invitation to vote informal illegal?…
Mr. Blakeney is reviving the 1999 policy to argue that the republican movement can fix up their mistakes later. We would enocurage him to pursue that.
But we would not encourage him in his other tactic, which I fear is an offence.
He is inviting republicans to vote informally.
He says to tick the box. Now you don't do that in a referendum.
But if you couldn't care what model republic you are calling people to agree to why waste your time ensuring votes are valid.
Last time they let these informal votes through.
It may not happen next time, Mr. Blakeney.