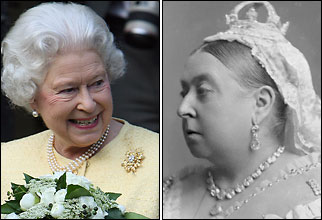 "Millions gathered on the streets; people of every generation from every background joining in the fun; all the corners of the kingdom united in one thoroughly British occasion," writes Robert Harman in The Spectator of 6 September, 2008.
"2012 really is going to see one hell of a party," he predicts. "In fact, buy your Union flags now because there won't be any left by then."
"And hang on to them. Because you might just need them for the follow-on event — the supporting gig otherwise known as the London Olympics.
"But even louder will be the reception for an elderly woman whose performance will be remembered for much longer than any sporting moment at the London Games.
"Olympics, 'he says" come and go every four years and, every 50 years or so, they end up in London. Up to now, only one monarch in history has celebrated a Diamond Jubilee.
…Diamond Jubilee….
"So when the Queen reaches her 60th year on the throne in 2012, the celebrations will be truly momentous. Just as Queen Victoria's Diamond Jubilee of 1897 was an occasion for monumental imperial festivities, so we can expect a similar outpouring of affection for her great-great-granddaughter."
He's right, but as in the past, the usual out of touch commentators will predict the occasion will be a damp squib.
Just as Mike Carlton predicted tastelessly in The Sydney Morning Herald that the funeral of the much loved Queen Mother would be almost only noticed by confused Japanese tourists and a few royalists.
Carlton, of course, soon had egg on his face.
Robert Hardman says the Diamond Anniversary will have one insuperable advantage over the Olympics.
"The Jubilee will be open to everyone and it will cost nothing whereas the Games come with a projected £9.3 billion (or is it £20 billion?) price tag. And you don't get in without a ticket. In the feverish summer of 2012, the public will not be slow to appreciate the contrast.
" Politicians, take note."
…republicans hoping something will turn up…
In the meantime, instead or working to develop some constitutional model, republicans have, since 1999, been dreaming of some future event that will hand them a republic – without their doing any work .
Currently, they are again making the mistake of mixing politics with sport, as they did with the Melbourne Commonwealth Games.
They now assume the London Olympics will somehow secure victory for them.
They have been paying attention to some under occupied politicians and journalists who have decided the Olympics are between the UK and Australia .
Incidentally, if an Australian government times a referendum or plebiscite with an election, this could be either in 2010 or 2013, quite close to 2012.
I am assuming that after the West Australian election, politicians will be less inclined to seek an early election.