Australian leg-spinner Shane Warne prepared to retire from professional cricket on Friday with a delivery aimed straight at Buckingham Palace as he fished for one last accolade to add to his resume — a knighthood, reports Reuters' Sonia Oxley .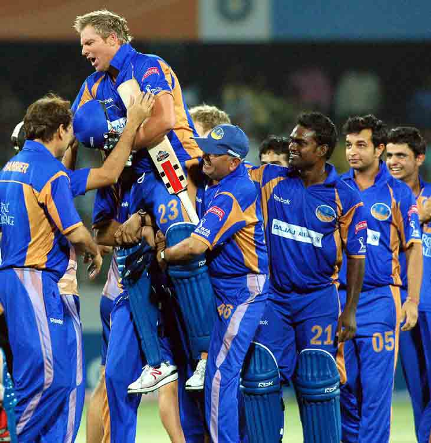 Apart from those in the gift of The Queen, Knighthoods are no longer awarded in Australia, although their restoration in New Zealand has met with wide support.
Reuters continues: The flamboyant 41-year-old brings down the curtain on his career in his Rajasthan Royals' final match of the Indian Premier League (IPL) season against Mumbai Indians after tormenting batsmen all over the world for two decades.
In a column for British newspaper The Daily Telegraph, Warne wrote about his cherished memories before pondering what might lie ahead for him.
"I'm not quite sure what the future holds," he wrote.
"But I do note that the other four men who were chosen in Wisden's Five Cricketers of the Century are all Sirs. Perhaps my knighthood has been lost in the post.
"Sir Shane Warne — it has quite a ring to it, don't you think?"
The spin great, who took 708 test wickets, retired from test cricket after Australia whitewashed England 5-0 in the Ashes in early 2007 but continued to play in the cash-rich IPL.
He was named in 2000 as one of the most prominent players of the 20th century alongside Donald Bradman, Garfield Sobers, Jack Hobbs and Viv Richards who were all knighted.