As a result of an Australian Labor Party Caucus meeting in Canberra, Ms. Julia Gillard was elected federal parliamentary leader of the Party. The 26th Prime Minister, the Hon. Kevin Rudd, had decided not to allow his name to go forward. This was a result of political machinations
which occasioanlly afflict all political parties.

Following convention, Mr. Rudd then advised the Governor-General to call on Ms. Gillard to form a government.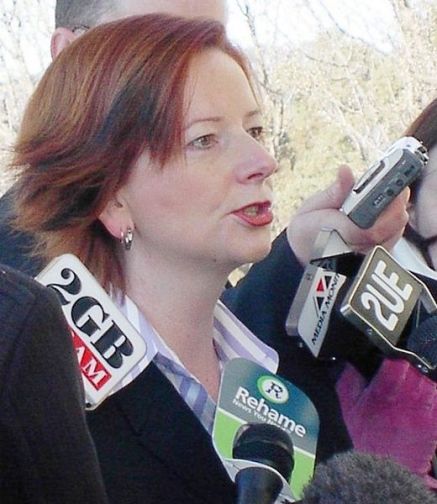 Accordingly the Hon. Julia Gillard was sworn in today, 24 June 2010, as Australia's 27th Prime Minister and the first woman to hold that office. She was sworn in by Her Excellency, Ms. Quentin Bryce, the first woman Governor- General of Australia, who was exercising the powers of the Australian Crown vested in her under the Constitution.
The ceremony was marred in one significant aspect. The Oath of Office of The Queen's Ministers of State for the Commonwealth, as the Constitution designates them, was amended in 2007 to remove any reference to The Queen of Australia.
This was inappropriate if not improper; in 1999 the people of all states affirmed that Australia remain a Federal Commonwealth under the Crown.

That said, the transfer of power to The Queen's new first minister of the Commonwealth demonstrates that once again, the Australian constitutional system combines democracy, stability and desirable flexibility, as few systems do.
{youtube}1HUyut-wPbg{/youtube}