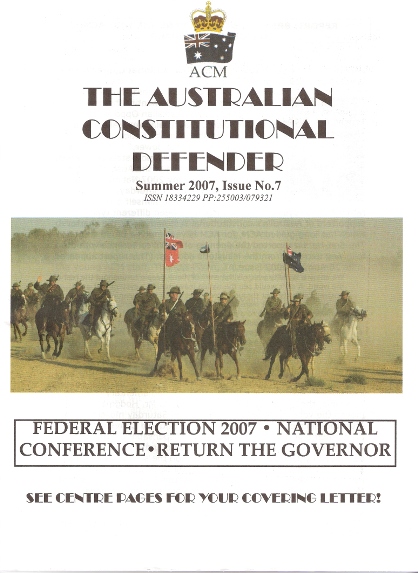 The Christmas issue of The Australian Constitutional Defender has just gone to press, and should be received before Christmas.
The Defender contains reports on our campaigns to return the NSW Governor to Government House, to inform the voters on candidates' views on the Constitution and the flag in the federal election – ELECTION WATCH, of the Diamond Wedding Anniversary of The Queen and The Duke of Edinburgh, and of course, the ninetieth anniversary of the Charge of the Australian Light horse at Beersheba.
This bumper issue also continues The Diary, our record of matters of interest to all constitutional monarchists.
This is the second issue of The Defender this year. Issue No 7 contained a special report on HRH Prince William and the Office of Governor-General, who the High Court has ruled, is the Constitutional Head of the Commonwealth.
This year's issue of our broadsheet newsletter contained a report about young Australians and the magic of monarchy. This photograph on the front page captured the excitement of some Australian children when they unexpectedly received a message from The Queen. And one leading republican poitician says no new constiutionalists are being born.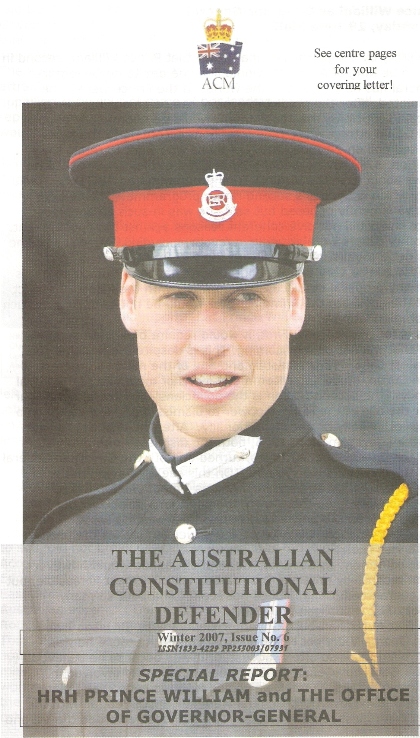 All ACM financial supporters should have received these earlier publications. If you have not the past issues, or have not received Defender 7 by Christmas, please let us know. If you wish to become a financial supporter them, just click on "Become a Supporter" on our home page. We intend to enhance our publications programme in 2008. We are now working on the next issue of The Defender, and also on the ACM newsletter broadsheet.
And we wish you all, and those close to you, a very Merry Christmas and a Happy New Year.