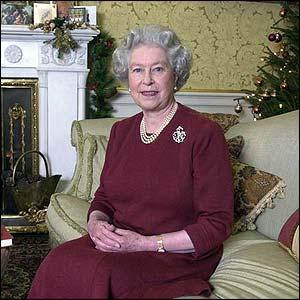 "The Queen's Christmas Message on YouTube has already been a huge success," wrote Harold Schmauze on the Mellbourne based Monarchist Alliance website.
" When I watched it for the first time on Sunday 24,000 people had been there before me," he noted. "Yesterday evening the number had risen to 351,700 and on Tuesday morning the number has swollen to 522,000. That's is an extraordinary number of people in less than 40 hours. Her Majesty – megastar."
When we checked on Boxing Day at 1710pm (Eastern Australian Summer Time) the number who had logged on was approaching four fifths of a million, actually 793,256. The Times and The Australian ( web version) reported that by the evening of Christmas Day it was already one of the most viewed channels on the site, attracting two hits per second. Add to that the many millions who watched on television ( in 2001 the BBC estimated the world wide TV audience to be over 100 million) and heard the message on radio, and the many more who saw heard or read extracts, and we have an idea of how interested people are in our Sovereign and our Royal Family.
This interest extends well beyond the Commonwealth. The French news from Paris relayed on SBS television on Boxing Day included a report on the message itself and the You Tube Royal Channel as extensive as or moreso than the reports on Australian television and radio.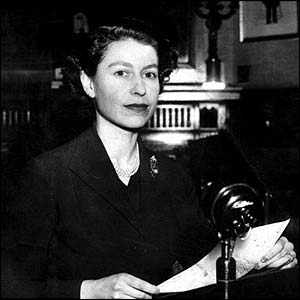 Both the Sydney Morning Herald and The Australian curiously restricted news about this to their websites, both using an excellent video clip from Reuters. But there was nothing about The Queen of Australia's Christmas message in the print versions of either. I suppose the editors would say they wrote about this in advance. ( One paper did include a page three report on the riveting news about who will replace republican Peter FitzSimons on republican Mike Carlton's low rating Sydney morning breakfast talkback programme.)
At least The Daily Telegraph reported the message, as I hope newspapers in other centres did.
The Queen's Christmas message was also remarked on for its substance. The Queen spoke on the heightened awareness of change that comes with age, and how technological change affected her annual messages. She contrasted these changes with the constant factors in life, the importance of family and the need to reach out, as Christ Himself did, to the disadvantaged. It was a thoughtful and well considered message. [The text of the message is produced below.]
In the meantime, "Kipling," on the Canadian site The Monarchist, reflected on The Queen's first televised Christmas Message which now features on You Tube. "While media reports have emphasized the historic significance of the 1957 broadcast, the first to be made on television, its most striking aspect is the text itself", writes.
Noting that Her Majesty's Christmas addresses have sometimes been criticized as overly cautious, meditations on unquestioned truisms, he says, correctly in our view that this is too harsh. Her comments have to be subtle, sometimes too subtle for some commentators, and of course, they cannot be political way.
But as Kipling says, their relevance is in no way diminished by this necessity. Kipling stresses these extracts:
"But it is not the new inventions which are the difficulty. The trouble is caused by unthinking people who carelessly throw away ageless ideals as if they were old and outworn machinery. They would have religion thrown aside, morality in personal and public life made meaningless, honesty counted as foolishness and self-interest set up in place of self-restraint.
"At this critical moment in our history we will certainly lose the trust and respect of the world if we just abandon those fundamental principles which guided the men and women who built the greatness of this country and Commonwealth.
"Today we need a special kind of courage, not the kind needed in battle but a kind which makes us stand up for everything that we know is right, everything that is true and honest. We need the kind of courage that can withstand the subtle corruption of the cynics so that we can show the world that we are not afraid of the future.
"It has always been easy to hate and destroy. To build and to cherish is much more difficult. That is why we can take a pride in the new Commonwealth we are building."
The Queen's Christmas Broadcast 2007
"One of the features of growing old is a heightened awareness of change.
To remember what happened 50 years ago means that it is possible to appreciate what has changed in the meantime.
It also makes you aware of what has remained constant.
In my experience, the positive value of a happy family is one of the factors of human existence that has not changed.
The immediate family of grandparents, parents and children, together with their extended family, is still the core of a thriving community.
When Prince Philip and I celebrated our Diamond Wedding last month, we were much aware of the affection and support of our own family as they gathered round us for the occasion. Now today, of course, marks the birth of Jesus Christ.

Among other things, it is a reminder that it is the story of a family; but of a family in very distressed circumstances.
Mary and Joseph found no room at the inn; they had to make do in a stable, and the new-born Jesus had to be laid in a manger.
This was a family which had been shut out. Perhaps it was because of this early experience that, throughout his ministry, Jesus of Nazareth reached out and made friends with people whom others ignored or despised.
It was in this way that he proclaimed his belief that, in the end, we are all brothers and sisters in one human family.
The Christmas story also draws attention to all those people who are on the edge of society – people who feel cut off and disadvantaged; people who, for one reason or another, are not able to enjoy the full benefits of living in a civilised and law-abiding community.
For these people the modern world can seem a distant and hostile place. It is all too easy to 'turn a blind eye', 'to pass by on the other side', and leave it to experts and professionals.
All the great religious teachings of the world press home the message that everyone has a responsibility to care for the vulnerable.
Fortunately, there are many groups and individuals, often unsung and unrewarded, who are dedicated to ensuring that the 'outsiders' are given a chance to be recognised and respected.
However, each one of us can also help by offering a little time, a talent or a possession, and taking a share in the responsibility for the well-being of those who feel excluded.
And also today I want to draw attention to another group of people who deserve our thoughts this Christmas.
We have all been conscious of those who have given their lives, or who have been severely wounded, while serving with the Armed Forces in Iraq and Afghanistan.
The dedication of the National Armed Forces Memorial was also an occasion to remember those who have suffered while serving in these and every other place of unrest since the end of the Second World War.
For their families, Christmas will bring back sad memories, and I pray that all of you, who are missing those who are dear to you, will find strength and comfort in your families and friends.
A familiar introduction to an annual Christmas Carol Service contains the words: 'Because this would most rejoice his heart, let us remember, in his name, the poor and the helpless, the cold, the hungry, and the oppressed; the sick and those who mourn, the lonely and the unloved.' Wherever these words find you, and in whatever circumstances, I want to wish you all a blessed Christmas.".