The Queen has expressed shock at the bushfires that have torn through Victoria with such tragic consequences, the Herald Sun reported on 9 February.
"I was shocked and saddened to learn of the terrible toll being exacted by the fires this weekend," The Queen said.
"I send my heartfelt condolences to the families of all those who have died and my deep sympathy to the many that have lost their homes in this disaster.
"On so dreadful an occasion as this for Australia, the firefighters and other emergency services have been making extraordinary efforts to contain the situation and tend to those who have been injured.
"Please also convey to them my renewed admiration for all that they are doing."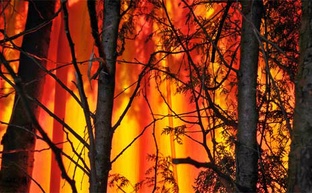 The British Prime Minister Gordon Brown earlier called his Australian counterpart Kevin Rudd to say the UK was ready to help after the bushfire disaster.
These are very sad days for the Australian nation, which stands united in its sympathy and support for the people who have suffered and continue to suffer so much.
The Premier of Victoria, John Brumby, has provided leadership in these moments of despair, not least by his compassion but also by his move to bring in and involve the leaders of the other Victorian parties.
{youtube}WxO2CGatXls{/youtube}