This morning, the British Ambassador in Berlin handed the German government a final note, stating that unless we heard from them – by 11 o'clock – that they were prepared at once to withdraw their troops from Poland, a state of war would exist between us. Then came the words most feared by all. I have to tell you now that no such undertaking has been received and that, consequently, this country is at war with Germany.
Seventy years ago, on 3 September 1939, Neville Chamberlain made this announcement on the BBC.
"The greatest and most destructive war in history had begun. Fifty-five million lives would be lost; there would be the Holocaust, the atom bomb, the making and breaking of empires and nations," observes Melvin Bragg in a new documentary.
He writes in the London Daily Telegraph that he had not realized, before making this documentary, that September 3 1939 was so packed. "Australia, the West Indies and others in the Empire came on side that day. Poland, still being bombed, was jubilant that we had entered the war. From that lovely English Sunday morning there would come darkness for so many, and deep shadows that still envelop the world today."
"At 6pm sharp, families gathered around their wirelesses once more as King George VI broadcast to the British Empire on the BBC. 'For the second time in the lives of most of us we are at war,' he said. 'Over and over we have tried to find a peaceful way out.' The King spoke of 'my people': 'It is for this high purpose that I call my people at home.' "
The Australian Prime Minister announced Australia's involvement in the following message. Australia had not yet adopted the Statute of Westminster, and therefore did not make a separate declaration as Canada did.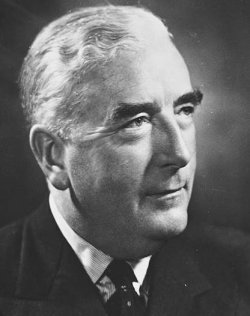 You may hear Mr. Menzies' announcement by following this link to the Menzies Virtual Museum. Click on the sound file icon on the right.