Countries that have a monarchy in the Canadian sense, a constitutional monarchy, are the countries where human rights and the rule of law flourish, says Robert Finch Dominion Chairman of the Monarchist League of Canada.
Mr Finch was speaking on the release by Prime Minister Stephen Harper of the preliminary schedule of Queen Elizabeth's Canadian visit from 28 June to 6 July 6.
This will include what Patrick White of The Globe and Mail (20/5) describes as "prominent stops" in Halifax, Ottawa, Winnipeg, Toronto and Waterloo.
He says that the length and profile of this homecoming ( the delightful and accurate term the Canadians use to describe these occasions) reflects the Prime Minister's "warm embrace of the monarchy."
"It's a very diverse itinerary, which is good," Mr. Finch told the Globe and Mail. "It's important to have as many public events as possible so Canadians can get up close and personal with her.… I believe she's a model stateswoman for the world."
Starting in Halifax on June 28 and 29, Queen Elizabeth will inspect troops, lunch with Defence Minister Peter MacKay and conduct a review of 21 naval ships at anchor in Bedford Basin before unveiling a plaque commemorating the 100th anniversary of the navy.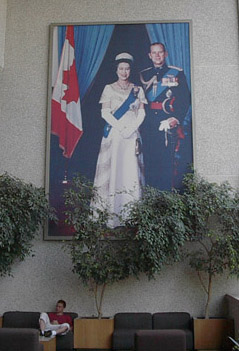 On 30 June 30, Her Majesty will visit to the refurbished Museum of Nature in Ottawa and unveil a statue of Oscar Peterson, the late "jazz great" seated on a bench beside a grand piano.
…Canada Day…

The Queen with husband Prince Philip will preside at the Canada Day celebrations on Parliament Hill marking the country's 143rd birthday. The Queen and the Duke will fly to Winnipeg's new airport building to open it.Her Majesty will then review Canadian Forces veterans and unveil a plaque at the Human Rights Museum. According to Mr. White, it is believed she will presentthe museum with a souvenir from Runnymede, where the Magna Carta was agreed.
…at the races…
On 4 July, The Queen and the Duke will attend the 151st running of the $1-million Queen's Plate at Woodbine Racetrack. This will be the fourth running of the Queen's Plate that Her Majesty has attended.
Named after her great-great-grandmother, Queen Victoria, Her Majesty attended the Queen's Plates in 1959, 1973 and 1997.
On the following day she will fly to Waterloo for a tour of a production line at Research In Motion, maker of the BlackBerry, returning that day to Toronto to visit Pinewood Studios.
Before a State Dinner she will meet the Liberal Leader Michael Ignatieff.
Her Majesty will fly from Queen's Park on 6 July for g to New York where she will address the UN General Assembly, her first appearance at the United Nations since 1957.
…warming of relations…

Mr. White says that the "scrupulously planned" tour underscores a warming in relations between Buckingham Palace and Ottawa.
"This government has been quite favourable towards the institution of the monarchy," Mr. Finch told the Globe and Mail. "Perhaps they realize it's one of those things that doesn't belong to any one political party."