HRH Crown Princess Victoria of Sweden married Daniel Westling in Stockholm's Storkyrkan Cathedral on Saturday afternoon (19/6) in what Olga Craig and Paul O'Mahony of the London Daily Telegraph described as a lavish spectacle of elegant style, royal pageantry and traditional ceremony. Her husband is now HRH Prince Daniel, Duke of Vastergotland.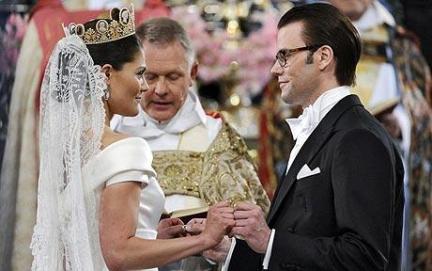 HRH Prince Edward, the Earl of Wessex, and his wife Sophie, the Countess, represented Queen Elizabeth II.
Other guests included HM Queen Margrethe and Prince Consort Henrik of Denmark; HM Queen Sofia of Spain; Thier Majesties King Harald and Queen Sonja of Norway;HM Queen Beatrix of the Netherlands; HRH Princess Martha Louise of Norway and her husband Ari Behn; TRH Princess Laurentien and Prince Constantijn of Holland; Crown Princess Mary and Crown Prince Frederik of Denmark.
The Greek Royal Family was very well represented by Their Majesties King Constantine and Queen Anne Marie ; HRH Princess Alexia of Greece and her husband Mr Carlos Morales; HRH Prince Nikolaos of Greece and his fiancée Miss Tatiana Blatnik, and TRH Princess Theodora and Prince Phillipos of Greece.
And, according to Telegraph, "the dazzlingly glamourous" Princess Madeleine of Sweden was there, wearing "a lavish, electric blue gown".
Church bells peeled and large crowds estimated at 200,000 watched on large screens in the streets, while almost five million viewers across Europe.
The celebrations include a private dinner at Drottningholm Palace, a lunch at the City Hall of Stockholm and a gala performance at the City's Concert hall.
…republican snobs….
According to the Telegraph, the decision of the Crown Princess, 32, to be escorted down the aisle by her father, the King was controversial. Most Swedish brides walk down the aisle with their husbands to be. The Telegraph says that this decision angered many, and that Archbishop Anders Wejryd, who conducted the service, had earlier rebuked the couple for adopting the British custom.
When the groom, her former personal trainer, first appeared in the media, the Telegraph reports that his casual appearance and his "thick, rural accent" horrified some Swedes.
We would not be surprised from our experience in Australia if this were not the usual republican elite, including some members of the commentariat. We are told endlessly by the media and republicans that the British are the most class conscious society in the world. This is clearly not so. All people of goodwill will join in wishing the Princess and her Prince every happiness.
{youtube}3mqcnRS1Gm8{/youtube}

{youtube}ZgkLiSR7s4c{/youtube}