On Sunday 14 August 2011, Young ACM Spokesman, Jai Martinkovits, was guest speaker at a luncheon arranged by ACM's wonderfully active Toowoomba branch.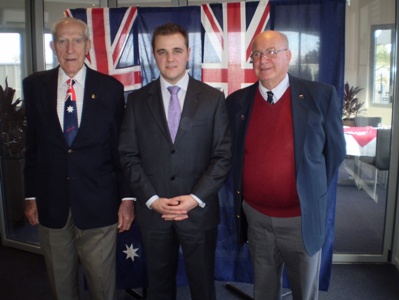 [Maj. Gen. "Digger" James AC MBE MC, Jai Martinkovits, John Brett]
Speaking on "The Media Monopoly is Crumbling", ACM's supporters were both informed and encouraged.
… Download a copy of Jai's address ….


You can download a copy of Jai's address here:
The recording contains the following:
Summary of recording – John Standley.
Introduction of guest speaker – Richard Wood
"The Media Monopoly is Crumbling" – Jai Martinkovits
Vote of thanks – John Brett

[Jai Martinkovits]

… Toowoomba's essay competition …

ACM's Toowoomba branch would be one of, if not the most, active of ACM's branches.
Each year Toowoomba facilitates an engaging essay competition, which receives many entries from within the region.
Past years' competitions have seen students remain actively involved in the debate and also within ACM.