A Royal Romance is a TV Documentary being made for the ABC & Screen Australia. I and others from ACM have spoken to the director, Mr. Trevor Graham, and think he will produce a professional documentary fairly presenting what the project aims to achieve – an informed and affectionate look back at Queen Elizabeth's unique relationship with Australia. I have told Mr. Graham about my personal recollections of that day when Her Majesty first stepped ashore onto Australian soil, the many times I saw her over the next few weeks, and the feeling of excitement and joy that pervaded the country at the time.
The media release below comes from the producers.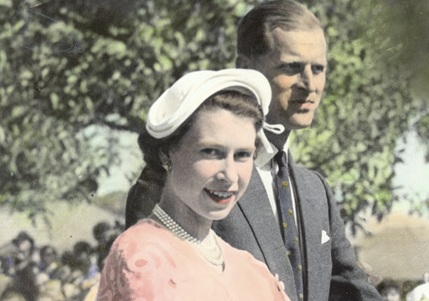 ….Producers' Media Release:
,
Are you, or were you, a fan of Queen Elizabeth? Have you met her, or presented Her Majesty with a bouquet of flowers on one of her 13 royal tours to Australia? Were you in a country town, a regional centre, or a capital city when the Queen came to visit? Do you have a cherished memory to share?
Did you snap photographs, or shoot the odd reel of film or video?
Australian film-makers are now on the hunt for your stories and archive. Electric Pictures is producing A Royal Romance – a documentary for a prime time ABC audience that takes an informed and affectionate look back at Queen Elizabeth's unique relationship with Australia.
In 1954, Australia was gripped by Cold War fever, the Labor Party was about to split over communist influence in the trade unions, floods and a cyclone devastated both Queensland and New South Wales and Bill Haley and The Comets' "Rock Around the Clock" was topping the charts. On February 3rd, in
the middle of a blazing hot summer, a young 28-year old Queen Elizabeth II stepped ashore on Sydney Harbour – the first reigning monarch to visit 'Down Under'. Her much loved father, King George VI, had died just two years earlier.
Throughout the country, arches were built, decorations erected and fireworks let off for gala events. A unique agency was created within the Prime Minister's Department to handle all arrangements for the tour. The Post Master General's office created a special Royal edition 7 ½ penny stamp. In cinemas, 'God Save the Queen' was played before the start of every movie and patrons dutifully rose to their feet.
The Commonwealth Film Unit made a feature length film in glorious colour about the tour, which was
screened in cinemas around Australia and Britain.
It's hard to imagine those scenes now, 55 years later, when many Australians are actively debating the idea of a republic, but in the Australia of 1954, the royals were greeted like rock stars. They were a young, handsome couple, considered modern and stylish.
Enormous crowds greeted them everywhere: school children, ex-servicemen and women, sportsmen, miners, trade union leaders, farmers, lord mayors, everyday Australian mums and dads and their children – even left wingers and communists.
A staggering three quarters of the Australian population (7.5 million people) made an effort to see the Queen, sometimes more than once. The record viewing was 23 times by a devoted fan from Brisbane.
During their two-month stay, the Queen and Prince Phillip wound their way around the country visiting war memorials, rocket ranges, hospitalised people, Indigenous people, town halls, parliaments, open cut mines, sheep and cattle stations, garden parties, horse races, cricket matches, and the
Great Barrier Reef. They were a symbol of national unity and Australia's historic ties to Britain and its fading sense of empire.
Director Trevor Graham says : "A Royal Romance is like traveling in Dr Who's Tardis, back to the era of my parent's generation, to revisit their enthusiasm for the Queen and what she
meant to that post War generation of the 1950s. And equally it's an opportunity to look at how Australia and Australians have changed since the first royal tour and to ask what does the continuing relationship with the Queen mean for us today".
The first Australian documentary on this subject for many years, A Royal Romance is history brought to life in a winning blend of nostalgia and analysis, anecdote and charm that captures the changing mood of the nation and retraces the Queen's reign for the past 55 years. Beyond the politics, the brou-ha-ha, and rights and wrongs of our current constitutional relationship to Queen Elizabeth, many Australians maintain a soft spot in their hearts for their aging Monarch.
If you have a cherished memory to share, then Electric Pictures would like to hear from you. Director Trevor Graham is looking for compelling eyewitness anecdotes, happy snaps and film or video footage to help tell this significant story about Australia and our relationship to Queen
Elizabeth.
Please contact:
Electric Pictures
33 Canning Highway East Fremantle 6158 WA
Tel: (08) 9339 1073
Email: [email protected]lectricpictures.com.au
(Note for journalists: A selection of photographs are available upon
request and director Trevor Graham is available for interview.)