It is wrong to portray the Thai Red Shirts uprising as a spontaneous grassroots struggle by the poor, says a decorated Australian soldier living in Bangkok, 75 year old Barry Petersen. According to Paul Toohey in the Sydney Daily telegraph, 19 May 2010, Mr. Petersen is a war hero awarded the Military Cross when he was sent into the Vietnamese highland alone to raise an anti-communist guerrilla force among the Montagnard or Hmong people during the Vietnamese war.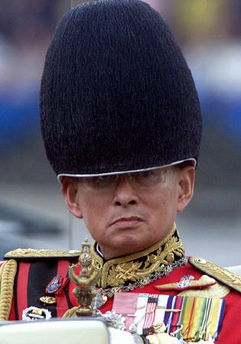 " The foreign media seem to give the impression that this is an uprising of poor people, but it is an uprising of poor people encouraged by rich people with their own agenda."
" There is a lot of money going into this demonstration. They're paying a daily per diem to these people, between 300-500 Thai Baht ($15-$17 a day) to protest"
He says some cannot speak Thai but were Cambodian or Burmese who were paid to form a rent-a-crowd protest.

…demonstrators well organised…
He said the protesters, believed to be funded by deposed billionaire prime minister Thaksin Shinawatra were well organised with large generators, and broadcast facilities. In the meantime, photos were published of Mr. Thaksin apparently shopping in a Paris Louis Vuitton shop at the weekend.
Although the demonstrators are not communist aligned, he said, some had taken to wearing communist insignia such as Mao caps with red stars.
He said they had one voice coming from a loudspeaker, something the communists used. The repeated message is that the Eton and Oxford educated Prime Minister Abhisit Vejjajiva was "a murderer". ( Hear how his name is pronounced here)
There has not been much of this sort of background in mainstream media reports.