Foxtel is being wonderful for Royalists this June. Not only is the Bio channel flush with programmes about our Royal Family, other channels are broadcasting a large number of programmes reflecting interest across the nation.
See our separate post on the Bio Channel. Here are some others :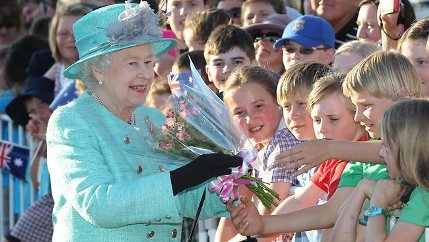 SUNDAY, 2 JUNE
8:30 PM Knowledge Channel 612: Jubilee Tribute To the Queen

Drawing on archive newsreels and home movies and photographs, Prince Charles reflects back on Her Majesty's 60 years reign both as Queen and as his own mother.
9:40 PM Knowledge Channel 612: The Queen's Palaces
Buckingham Palace
MONDAY,3 JUNE

9 AM Knowledge Channel 612: Jubilee Tribute to the Queen
10:10 AM Knowledge Channel 612: The Queen's Palaces
8:30 PM History Channel 606: the Queen's Diamond Decorates
The 50s. A unique series that tells the story of Queen Elizabeth II over six remarkable decade's

TUESDAY, 4 JUNE
9:40 PM Knowledge Channel 612: The Queen's Palaces
11:40 PM Knowledge Channel 612: Jubilee tribute to the Queen
SATURDAY 8 JUNE
5:30 PM history Channel 606: Backstairs Billy
The Queen Mother's Butler
SUNDAY, 9 JUNE
9:20 AM Knowledge Channel 612: The Queen's Palaces
1020 Knowledge Channel 612: The Diamond Queen
4:30 PM Knowledge Channel 612 The Diamond Queen
9:40 PM Knowledge Channel 612:Tthe Queen's Palaces
MONDAY, 10 JUNE
8:30 PM E Channel 121: William and Kate – The First Year
This documentary tracks what has happened to the golden couple in their first year of marriage
8:30 PM History Channel 606: The Queen's Diamond Decades
9:30 PM history Channel 606: The Coronation of Queen Elizabeth II
The behind-the-scenes story of this fascinating moment in modern history, made with the cooperation of Buckingham Palace
9:30 PM E Channel 121: Two faces of Prince Harry
10 PM E Channel 121: Kate and Will – Happily Ever after
TUESDAY, 11 JUNE
6:30 AM History Channel 606: The Coronation of Queen Elizabeth II
12:30 PM History Channel 606: The Queen's Diamond Decades
1:30 PM History Channel 606: The Coronation of Queen Elizabeth II