After an extraordinarily rushed hearing in time for the election on 21 August, the High Court has upheld the GetUp! challenge to changes to the Electoral Act made in 2006 under the previous government.
Legislation introduced in the eighties ostensibly to make voting easier had given voters seven days to enrol following the issue of the election writs.Under the 2006 amendments the rolls were to be closed at 8pm on the day the election writs were issued for all new enrolments and three days later in relation to those recording change of address.
This was introduced to prevent fraud.
The Court decision to declare the amendments invalid was made by a majority of judges. The Court has given no details of its reasons. These will be published at some unspecified future date.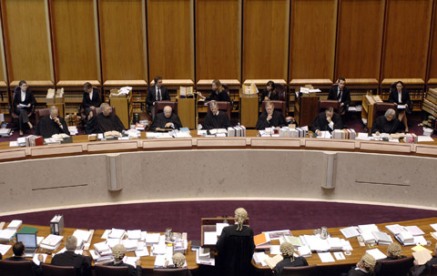 The Court surely has a duty to the Australian people to explain its decision well before the election. There is no reason why this could not be done early next week. The judges have made their minds up- it should be a simple matter for them to say what was in their minds.
..but are they all bona fide?…
Many Australians will be concerned that all of the 100,000 registrations now validated are bona fide. There is little point saying these can be challenged later.
In our earlier report about this challenge, we recalled that when Richard Mawrey QC was asked about this and other practices ostensibly designed to "make voting easier", he replied they what they did was to make made fraud easier. He was speaking at a seminar held at Parliament House Sydney on Thursday 25 February organised by the H S Chapman Society and co-hosted by ACM.
As we said then, Mr. Mawrey would know. Sitting as a High Court judge, he found six Labour councillors guilty of electoral fraud in the British 2004 Birmingham Council election. This made news not only in the UK, but around the world. He said this fraud was so appalling it would disgrace a banana republic.
He subsequently found that Conservative councillors had engaged in fraud in the Slough Council election.
The point surely is that if the system gives the opportunity for fraud, that opportunity will be taken up. on this occasion the AEC has indicated that proof of identity will be needed.
This is not because of any vigilance by the High Court. It is because it will be physically impossible – on this occasion – to include the names on the rolls.
This will not apply in the future unless Parliament closes the clear incentive to defraud which is present in the system.