The State Memorial Service to the Honourable (William) Michael Hodgman AM QC took place 3rd July 2013. It was held at the Federation Concert Hall, Hobart. The venue can seat 1100 people. It was nearly full capacity.
Michael Hodgman was a Patron of ACM and Patron to the Australian National Flag Association (Tas). As Tasmanian Convenor of ACM and Tasmanian President of ANFA I attended. However, it was more than just in an official capacity; for Michael was my friend and inspiration. Michael Hodgman was a great Monarchist and lover of the Australian and State Flags. He was a passionate Tasmanian. He loved his British heritage. Yet he was approached by all and had an affectionate nature. With hand outstretched and with his booming voice (was known as Mouth of the South) he was full of enthusiasm and sincerity. The character of Michael's will not be replaced easily if at all. He was flamboyant, colourful and witty.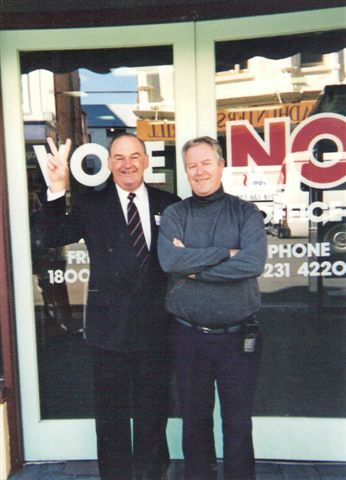 [Michael Hodgman (left) and Reg Watson, outside the Vote NO campaign HQ during the republic referendum]
He was born in 1938 into the family which had already made a distinction within the Tasmanian community, having arrived here in colonial times. His father William (Bill) was also in the legal fraternity and State, later local politics, once serving as the Warden of the Kingborough Municipality. Michael attended Hutchins School and at the age of 17 took up legal studies at the University of Tasmania and was accepted to the Bar when 24 years of age. He began his long political career when in 1966 he gained a seat in the Legislative Council and at that time was the youngest member to do so. He continued in State politics until he moved to Federal politics winning the seat of Denison for the Liberal Party. Eventually he became a minister in the Fraser Government. He left Federal politics after twelve years to return to State politics and served in the Parliament of Tasmania until 2010. He was brilliant with his oratory something which is sadly missing in latter times. He was outspoken and defended with great boldness those issues which he cherished. When in Opposition his business card read, "Her Majesty's Opposition". He became ill soon after his retirement from politics.
Quite apart from his politics and legal profession he was involved as a Navy Reserve Officer, the racing industry and local boxing. He was an avid supporter of the Geelong football club. Everyone seemed to know Michael and his interests and involvement was numerous. His motto was "Winners never quit and quitters never win!" Another quip was, "Work hard, play hard," but perhaps his playing hard never helped his health, for he was a great smoker and drinker of his favourite beer. He partied hard. But that was Michael and most loved him for it. He was a Peoples' man.
Michael would turn up every year at the ANFA (Tas) Australia Day barbecue, even though his programme for that day was strenuous. He would attend our annual National Flag Day luncheon (3rd September) and insisted in giving the Loyal Toast, to "Her Majesty, Queen Elizabeth II, and the Queen of Australia." Any event recognising the flag or constitutional monarchy he attended.

[Michael Hodgman and Reg Watson at a recent Australia Day Barbeque]
I worked with Michael during the 1999 referendum and was able to record him regarding his life last October for a radio spot which I have and it has been played twice. He would have liked to have become Attorney-General of Tasmania and Speaker of the House, but in his own words these positions were denied to him through manipulation of some within his own Party. He should have been Governor of Tasmania, if not Premier. These positions were not to be. His son, Will, is Leader of the Opposition and there is a great possibility that he will become Premier. I thought Michael may have held out until that occurred, but sadly, he will miss the event.
Michael was married twice; his first wife tragically died of cancer and married again with his second wife surviving him. He was a strong Catholic and the Most Reverent Adrian L. Doyle AM DD Archbishop of Hobart led the religious side of the Memorial Service. The eulogies were given by William Cox AC RFD ED QC (ex Governor of Tasmania) who knew Michael through his legal profession. Michael Hodgman's daughter Miss Tori Hodgman followed, with Mr Nick Freeman, one of twenty of Michael's God-sons and finally Michael's son, Will Hodgman MP who gave a brilliant eulogy. Naturally God Save the Queen was sung.
For me, Michael will sorely be missed. It was more than just his stance and support that mattered; the man mattered too. When I interviewed him last October, it was clear he was gravely ill, but one thing stood out, was that his mind was still brilliant. And of course he offered me his cherished beer. He will be missed, not just his presence but his solid belief and love for our flag, our system of government and all the proven institutions which is now so much under attack.