Queen Elizabeth II will attend the first day of the second Ashes Test between England and Australia at Lord's Cricket Ground on Thursday,18 July 2013. Stand by for some republicans to claim – on the basis of no evidence and only their strange obsessions- that Her Majesty favours the English cricketers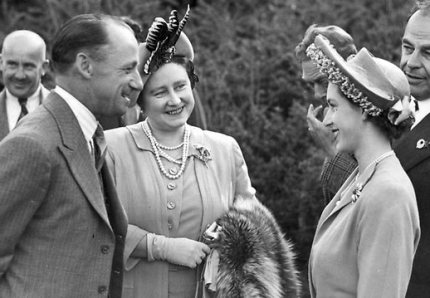 The Queen of Australia and of the United Kingdom will be introduced to the players – no doubt including the young man of the moment, Ashton Agar, as well as match officials on the pitch, before meeting management staff of the two teams and watching part of the match.
The last Test attended by the Queen was also between England and Australia at Lord's, in July 2009.
The image above, republished recently in the Australian media, is stated to be of the then Queen Elizabeth with the then Princess Elizabeth meeting the great Sir Donald Bradman during the 1948 Ashes Test between England and Australia.
However,one observant reader of our Facebook page believes the photograph is of Princess Margaret – and she may well be right. The photograph does not seem to appear in the online version of the many volumes of Sir Donald's scrap books.