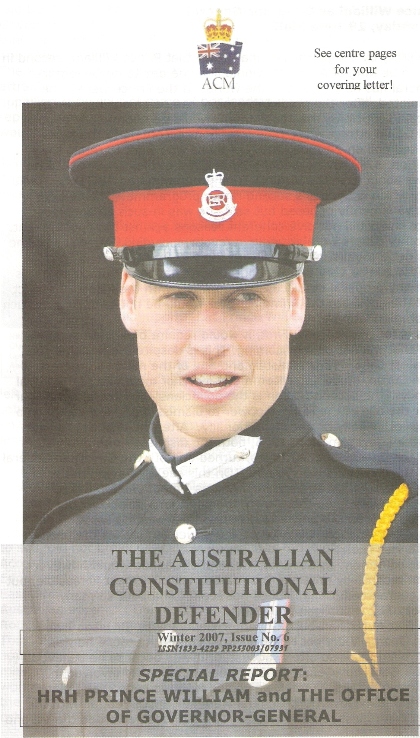 …after the Army, the RAF, and then the Royal Navy…
Prince William is to train as a pilot during a four-month attachment with the Royal Air Force, according to a BBC report. To be known as Flying Officer Wales, he will fly helicopters and fixed-wing aircraft at the RAF's school in Lincolnshire.
This follows his year with the Household Cavalry's Blues and Royals. During the next European summer, he will train with the Royal Navy. This is to prepare him as the future head of the armed forces. A spokesman said it was important that the Prince learn about the ethos and history of the RAF.
He is to begin training on Monday 7 January, 2008 at RAF Cranwell where he will learn to fly a propeller-driven Grob 115E light aircraft, the Tutor.
He will then move to RAF Linton-on-Ouse, in North Yorkshire, where he will first train with the Tucano T1 plane. He will then move to RAF Shawbury in Shropshire to fly the Squirrel helicopter.
His uncle Prince Andrew learned to fly at RAF Leeming, Yorkshire and served with distinction in the Falklands War on the aircraft carrier HMS Invincible. Prince Charles also learned to fly at RAF Cranwell in 1971 and later qualified as a helicopter pilot, serving with 845 Naval Air Squadron on commando flying duties from the aircraft carrier HMS Hermes.
According to Hello magazine, he will be treated no differently from other recruits, including observing the RAF's 'bottle to throttle' drinking ban. Pilots are barred from having more than two pints within 12 hours of flying.
…overwhelming support for monarchy, yet the BBC promotes fringe group…
In the meantime a poll by Discovery Channel shows 70% of young people want to keep the monarchy and only 16% want a republic.
Yet the BBC, almost alone among the major media, reports a predictable whinge by a "campaign group" called, with remarkable originality, "Republic." This cliquette is even smaller in numbers than the declining Australian Republican Movement, to which it is linked in a moribund international conspiracy, "Common Cause."
As Tony Abbott once said, accurately, of the taxpayer funded "national consultation" undertaken by the Republic Advisory Committee appointed by Prime Minister Paul Keating in 1993, many of its meetings could have been held in a phone booth. The details released confirmed this.
You could get somebody to attack every piece of news every day. The views of a miniscule group are not newsworthy and publishing them prominently cannot be explained rationally.
Unless of course the media outlet happens to have some hidden agenda. Are public broadcasters allowed that luxury? I must have a look at the Charter.
…the Basil Fawlty of republican royal watchers…
In the meantime the media generally is understandably becoming excited about the possibility that Prince William may soon announce his engagement.
What was curious in Australia was that the royal watcher wheeled out by one TV channel was none other than the republican royal watcher/hater Barry Everingham.
On such occasions, Barry speaks with what purports to be intimate inside information, but without mentioning his obsession to make Australia a republic tomorrow.
As was once said of Basil Fawlty by a psychiatrist staying in his hotel, who on coming back to the darkened hotel one evening and finding Fawlty on the floor in his underwear wielding a frying pan astride a flattened Manuel: "I think there's a thesis there."
To which his psychiatrist wife replied: " I'd say a whole conference."