The Princess Royal, "straight off the plane" was "outstanding," declared the nation's leading radio broadcaster, Alan Jones. Telling his vast breakfast audience she was a "class act," he recalled how hardworking she was and how she "should have won a Gold Medal at the Olympics." (Alan Jones is known for his deep interest in current affairs, the arts and sports.)
He returned later to the subject saying Princess Anne was "an amazing woman."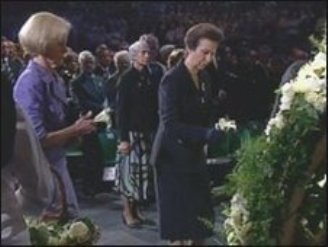 The Princess impressed those who attended and those who watched the service. "In what was seen as a clear desire to avoid the centre stage at the National Day of Mourning memorial service for the fire victims, the Princess Royal repeated a message sent two weeks ago by her mother and added one of her own," reported Mike Hedge in The Age.
Representing Queen Elizabeth and the Royal Family, Princess Anne out the message written by Queen Elizabeth soon after the fires occurred and passed on her condolences. She brought dignity, calm and personal humility to her role .
"Although a little daunted, when faced with the scale of loss, and the physical and mental impact that these bushfires have made and are still making for Victoria, individuals and towns have responded with resilience, ingenuity, courage and selflessness to situations that were changing at terrifying speed,'' Princes Anne said.
She said she would be visiting fire affected areas on Sunday, and speaking to some of those touched by the tragedy.
"People from around Australia and across the world watched in horror, but with admiration at their response,'' Princess Anne added. "I would particularly thank all those involved in whatever capacity, in the emergency services and in the voluntary organisations."
In The Australian, ("Princess drops in and wins hearts") Andrew Trouson told how after two weeks of 12-hour night shifts helping to co-ordinate the fight against Victoria's bushfires, a duty coordinator, Deb Sullivan could have been forgiven for being unenthusiastic at the Princess Royal's visit to Melbourne's Incident Emergency Control Centre.
But he says she was still shaking with excitement after spending several minutes talking to the Princess yesterday.
"I was a bit nervous, but if you'd spent a bit more time with her, she would have really relaxed you because of her genuine interest," she said. "We were excited but we didn't think she would engage as much with us as she did, which is wonderful."
Andrew Trouson reports that "a sombre Princess Anne", dressed in a dark navy blue jacket and matching knee-length skirt, dropped in to personally thank emergency co-ordinators whose unseen work has been key in getting fire-fighters, trucks and helicopters where they are supposed to be.
"Bent over a map of the area of Australia's worst bushfire disaster, Princess Anne listened intently as chief fire officer Ewan Waller explained where the fire had ripped through tinder-dry bushland, leaving more than 200 dead," he reported.
He said the control centre was "reminiscent of a war room, with a big map of Victoria on the wall covered in different coloured markers in front of rows of desks and computer screens."
He reported that Princess Anne, after attending the memorial service at Rod Laver Arena, spent over an hour talking to workers who were sitting at their screens updating information and co-ordinating logistics. "While many stayed working, others gathered smiling on the fringes of the office to watch," he said.