His Royal Highness Crown Prince Alexander II of Serbia attended a meeting "Vidovdan Days of Diaspora and Serbs in the Region 2009" in the Sava Centre , a matter of some interest to 100,000 Australians of Serbian origin. This meeting was organized by the Ministry for Diaspora, and held with blessings of His Eminence Metropolitan Amfilohije of Littoral, according to a report in Royalist News on 25 June 2009 from Belgrade.
Besides His Royal Highness many eminent guest were present, among whom were Bishop of Hvostan Atanasije Rakita, Bishop Porfirije of Jegar, H.E. Milorad Dodik, Prime Minister of Republika Srpska, H.E. Srdjan Sreckovic, Minister for Diaspora, H.E. Dr Zarko Obradovic, Minister of Education, H.E. Prof. Dr Bogoljub SIjakovic, Minister of Religion, as well as representatives of the Serbian Diaspora from the United States, Canada, Australia and Europe.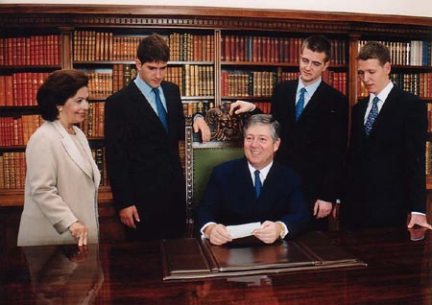 According to Royalist News, His Royal Highness Crown Prince Alexander II considers that Serbia must foster its contacts with the Serbian diaspora, and give them rights and opportunities to participate in every aspect of the development of the Serbian nation.
Australians of Serbian origin have long made a contribution to Australia, and will no doubt be interested in the role of the Royal Family in furthering the links with Serbia.