The eminent jurist and former Chief Justice of New South Wales Sir Lawrence Street has had some comforting words to offer over the recent political changes in Canberra.
Sir Lawrence was moving the vote of thanks at a recent function in Parliament House Sydney to Her Excellency Professor Marie Bashir, the Governor of New South Wales. This was on Her Excellency's fascinating address on the subject of one of her predecessors, the great Lachlan Macquarie.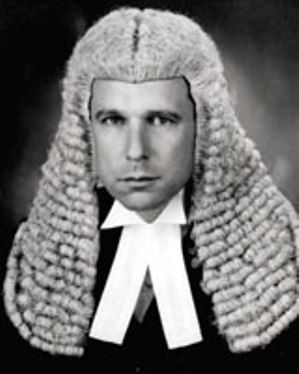 Sir Lawrence pointed to the crucial and important role of the Head of State, Her Excellency the Governor-General, Quentin Bryce. Through the powers of the Australian Crown under the Constitution, Her Excellency ensured there would be a peaceful and orderly transition of the office of Prime Minister of Australia.
…Governor Macquarie…
There is an excellent essay on Governor Macquarie in an excellent book, The Governors of New South Wales 1788 -2010 edited By David Clune and Ken Turner and published by The Federation Press in 2009. The book is available post free through The Book Depository at a special price of $55.41, saving $5.13 (8%) on the retail recommended price of $60.54.
As the publishers state the volume is framed by Rod Cavalier's foreword, which encourages a sequential reading of these thirty-seven essays, each part biographical study of a governor and part-analysis of the evolving office. Such a course, Mr. Cavalier suggests, will show the position to be no sinecure but a 'constant' in the flux of politics. Even so, as civics tests regularly show, it is a position in need of rehabilitation if it is to rise above being a misunderstood curiosity.
…apex of government…
A review in the Australian Book Review, March 2010, observes that the twenty-three political, historical and legal specialists who contribute the essays endorse Cavalier's point – "even if some incumbents are found to fall short of esteem."
In a review in The Sydney Morning Herald Spectrum on 27-28 March 2010, the NSW Solicitor General Michael Sexton write that the governor of a state is at "the apex of its system of government, assenting laws, dissolving parliaments and commissioning ministers."
" Yet," he says "he or she is almost always required to act on the advice of the government of the day. This paradox is a product of the states' origins as colonies under the British Crown and their subsequent moves to responsible government."
"That progression is, in many ways, the theme of this book, which contains biographies of the 37 governors of NSW since 1788, with particular emphasis on their period as the vice-regal representative."
"… like all books from Federation Press, this one is produced with superior paper and beautiful binding so that is a pleasure to hold while reading."
[The book may be purchased at the special price of $55.41 through The Book Depository.]