Dr Anthony Cappello, director of the up and coming publishing house Connor Court Publishing has extended an invitation to supporters to attend a launch of "Test Everything; Hold Fast To What is Good" written by His Eminence Cardinal Pell Catholic Archbishop of Sydney.
The launches are on 14 May in Sydney, 17 May in Melbourne, 18 May in Ballarat and 19 May in Brisbane.
In his book March of Patriots, Paul Kelly attacked constitutional monarchists for fighting against the campaign to make Australia a politicians' republic which he ran from the columns of The Australian.
He said we were "unscrupulous," "destructive", "disreputable" and our argument fraudulent, an argument answered here and by Professor Geoffrey Blainey.
In an interview I conducted with former Prime Minister John Howard on 5 November 2009, he volunteered his unqualified view that ACM had behaved with honour.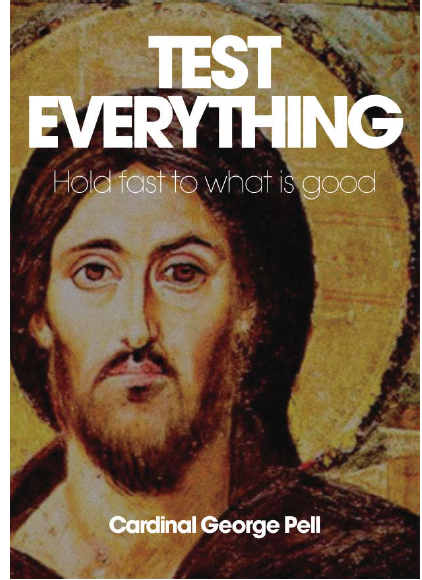 Constitutional monarchists may also draw solace from the words of Cardinal Pell in 1998. Moving the motion at the 1998 Constitutional Convention to approve the republican model which went to the 1999 referendum, the Archbishop of Melbourne said this:
"Yesterday the monarchists voted with discipline, integrity and honour. Lloyd Waddy was the very model of a modern major general. They did not vote tactically. Their virtue brought its own reward. Republican disarray yesterday was our own doing. The republicans know well that to divide is to rule even when the division is self-inflicted.
…review…

"The American Cardinal Francis Stafford says of the book:
"At a time when "the God question'' has rarely been as controversial, Test Everything; Hold Fast to What is Good puts the case that it is more reasonable to believe in God than to reject the hypothesis of God by appealing to chance."
" Goodness, truth and beauty call for an explanation as do the principles of mathematics, physics, and the purpose-driven miracles of biology which run through our universe.''
"Regardless of whether readers share his values and outlook, Cardinal George Pell has given them a provocative incitement to think and wonder about life's biggest questions that confront us all, sooner or later….His critical choices regarding `the cultural wars' are on target."
"With irony, humour and easily worn scholarship he counsels and cajoles the reader, always using the Cross of Christ as the unique and final measure of what it means to be human and thus holy… His writings reveal a strong, gentle, and an all-embracing heart."
"The style is fluent and fresh. Mulling over them is a source of joy, wisdom, and wonder.''