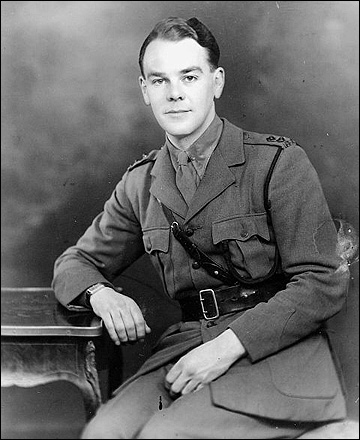 Tributes are flowing in to London, from all sides of politics and outside politics, for Lord Deedes, who has died aged 94. He was a Cabinet minister from 1962 to 1964, and editor of The Daily Telegraph from 1974 to 1986. ( The accompanying picture was taken before he left for Normandy in 1944.)
His assessment of the behaviour of the Australian press in the referendum campaign in 1999 could not have been more embarrassing to the Australian journalist corps. He wrote in the London Daily Telegraph on 8 November, 1999: "I have rarely attended elections in any country, certainly not a democratic one, in which the newspapers have displayed more shameless bias. One and all, they determined that Australians should have a republic and they used every device towards that end." ( An obituary was published in The Daily Telegraph on 17 August, 2007.)
In the meantime the role of the media in political life encouraged Sir David Smith to send the following revealing letter to The Australian. The letter has not yet been published.
"Media reports of an alleged lunch-time conversation between Peter Costello and journalists two and a half years ago set me wondering why the alleged conversation, if it took place, had been regarded by the journalists as off the record for two and a half years, but had suddenly, now, become on the record. Readers will have their own answers to that question.
"My mind also turned to 10 March 1971, the day that John Gorton stood himself down as leader of the Liberal Party and as prime minister, and was succeeded by William McMahon, following a tied vote in the party room on a confidence motion on Gorton's leadership. I was then a senior adviser in the Government Branch of the Prime Minister's Department, and my branch head and I had been called over to the prime minister's office in (old) Parliament House, and told to be ready to draft the necessary letter or letters to the Governor-General, for Gorton's (and, if need be, McMahon's) signature once the outcome of the party meeting was known. As we approached the PM's office, the party meeting secretary emerged from the adjoining Government Party Room to brief the waiting media.
"As soon as he had told them what had occurred, there was an immediate scramble up the stair case opposite the party room door as the media raced to their rooms upstairs in the Press Gallery to spread the news. As they raced up stairs I heard one of the journalists call out to his colleagues words that chilled me to the core and that I have never forgotten. His triumphant cry was "We've done it, we've done it. We've got rid of the bastard."
"So don't let anyone tell you that journalists only report the news: they can create it as well."