One of the most significant cars in the National Historical Collection of the National Museum of Australia is the DE 36hp Daimler Landaulette, a rare survivor of a small fleet commissioned by the Australian government in 1948.
We are delighted to announce that the Museum's Assistant Curator, Ms Laura Breen, will make a presentation at a MorningTea in Parliament House Sydney at 10 am on Tuesday, 13 March 2012. It will be our second Diamond Jubilee Sydney event. A copy of the flyer may be downloaded here.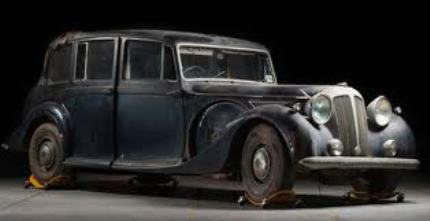 The cars were intended for the proposed royal tour of Australia by King George VI scheduled for the following year. London coachbuilders spared no expense, incorporating many luxurious features such as thick fitted carpets, leather and cord upholstery, engraved light fittings, electric windows, and even a gilded hand-mirror cunningly concealed in an armrest.
However, to the shock and disappointment of many, the King's declining health forced the cancellation of the tour at a very late stage.
This car was finally recalled to duty for a significant event two years later. Many Australians will remember it as the glamorous automobile which conveyed the newly-crowned Queen Elizabeth around Australia during her famous first royal tour in 1954.
The Royal Daimler held in trust by the National Museum remains in almost entirely original, albeit poor, condition. It is the mission of Museum conservators to return the car's appearance and function to that of its glory days. To this end, the Museum recently launched the Royal Daimler Project.
This fundraising campaign aims to raise $60,000 by the 60th Anniversary of the first royal tour in 2014 to support the restoration of the car. You can find out more about the history of the 1954 Royal Tour and the Royal Daimler Project at Parliament House, Sydney on Tuesday 13 March 2012.