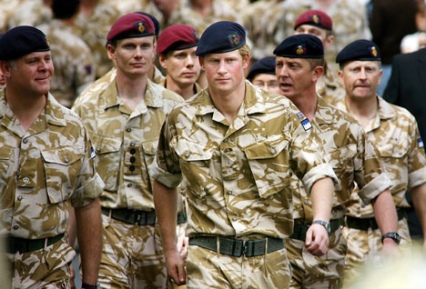 The Queen and her family have set a standard of service which is an example to all. That has been taken up by her children and grandchildren.
This sense of service has attracted favourable comment across the Commonwealth, and outside of the Commonwealth, in particular, in the United States.
We reported in this column ( "Prince Harry: honour, Duty and Service") on 3 March 2007 the comment of Marie Cocco who was impressed by the fact that "England sends its prince into battle," contrasting this with what was happening among the among the great aristocratic families of the American republic.
This sense of duty in the Royal Family is no new thing. Older generations remember it in the Second World War, when The King and The Queen, as well as the Royal Family, stayed with the people.
Prince Harry's grandfather, and his father saw distinguished service. More recently, in the Falklands war, Prince Harry's uncle, Prince Andrew, also rode, or perhaps more correctly, flew into battle.
The Argentinean media, once they were freed as a result of the United Kingdom's refusal to accept the invasion of the Falklands, lamented that while conscripts were sent into battle, the officer class tended to stay in Buenos Aires.
Prince Harry, as Lieutenant Wales, paraded with the Household Cavalry, the Blues and Royals Regiment, the Royal Horse Guards and 1st Dragoons.
He was one of 170 soldiers awarded a military campaign medal from HRH The Princess Royal, Princess Anne on 5 May, 2008, for services rendered in Afghanistan.
The Princess Royal is Colonel of the Regiment, and Her Majesty is Colonel-in-Chief. The Blues and Royals are allied with the Royal Canadian Dragoons and the Governor-General's Horse Guards, the latter of which the Queen is also Colonel-in-Chief.