It is the 70th anniversary of the loss of HMAS Armidale about 100km off the coast of East Timor, recalled John Bradford of Eden Hills, South Australia in a letter to The Australian on 1 December 2012.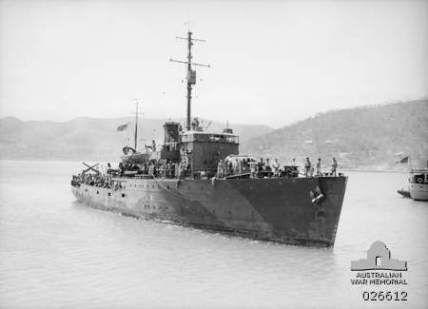 "The Armidale was overwhelmed by a force of Japanese torpedo-bombers and dive-bombers. The torpedoes that hit it cost the lives of 100 navy personnel and Javanese soldiers.
…invasion imminent…
"As far as our naval history is concerned, the loss of the Armidale has become synonymous with the gallantry of 18-year-old Tasmanian seaman Teddy Sheean whose self-sacrifice in defending his shipmates in the water is commemorated by his name being given to the fifth of our Collins-class submarines."
The Australian War Museum recalls that for Australians 1942 was the most perilous year of the Second World War.
"A series of victories brought Japanese forces into Australian territory in New Guinea and within a few miles of the Australian mainland.
"The bombing of Darwin in February heightened fears that an invasion was imminent."

The Museum describes the tragic story of the Armidale as an important yet neglected episode in Australia's wartime history, combining themes of bravery, sacrifice, and endurance.
"A hundred lives were lost when the ship went down, but in an extraordinary feat of survival, and despite continuing attacks from bombers and sharks, 49 men managed to survive at sea for up to eight days before being rescued."