Prime Minister Tony Abbott has announced the visit to Australia of the Warrior Prince.
"I welcome the visit of Prince Harry to Australia next month.
Whilst Prince Harry visited Australia privately in his gap year in 2003, this will be his first official visit to Australia.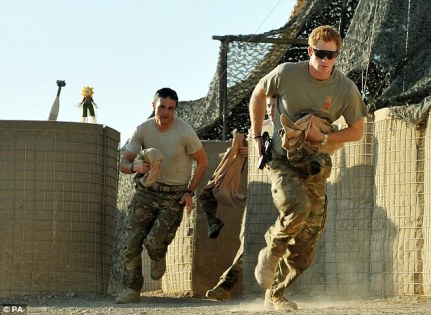 Australians have great warmth towards members of the royal family."
''Members of the royal family have enjoyed being in Australia and that pleasure is amply reciprocated by the Australian people.
''As a member of the armed forces, Prince Harry has continued a long tradition of duty and service. His work and advocacy for numerous charitable organisations has also been an important focus of his public life.
''During his visit next month, Prince Harry will attend the International Fleet Review in Sydney to mark the centenary of the first entry of the Royal Australian Navy's Fleet into Sydney.
''Further details of the Prince's visit will be released closer to the visit.
''I look forward to joining Prince Harry during his time in Australia.''
….HMAS Leeuwin….


Tim Barlass of The Sydney Morning Herald (24/9) reported
"All eyes will be on the surveying ship HMAS Leeuwin on Saturday October 5 when Prince Harry will accompany the Governor-General as reviewing officer taking the royal salute from Australian and visiting warships at the International Fleet Review.
"The vessel was chosen because of its 'appropriate deck space for the official party and for its manoeuvrability' in what will be a very congested harbour. 'It can turn on a sixpence,' if needed, a Navy source said.
He said that The Prince is understood to be arriving at Mascot probably in a chartered private jet.
He is to spend 36 hours in Sydney and Fairfax understands he will be hosting an 'alternative event' on the Saturday night at a hotel with harbour views.
…Salute…
"Prince Harry will join Governor-General Quentin Bryce on the Leeuwin to watch events on the water on the Saturday although the actual anniversary is the day before.
"Although he is the Queen's grandson, the Governor-General has made it very clear that it is her that is taking the salute as the Queen's representative and not the Prince.
…Premier…



"The International Fleet Review will be one of the biggest events ever staged in Sydney – I'm delighted that Prince Harry will now be part of the celebrations," said NSW Premier Barry O'Farrell said.
"Every royal visit attracts enormous excitement and I'm sure Sydneysiders will embrace Prince Harry during his short stay.
"Prince Harry has forged a distinguished military career in his own right so it's fitting he'll officiate in centenary celebrations for the Royal Australian Navy."
The Herald concluded "David Flint of Australians for Constitutional Monarchy said the visit would be 'another nail' in the coffin for the Republican Movement.
''He said: 'I am delighted, he is so appropriate. He will go down well with our servicemen and women because of his involvement in the armed forces.' "
@ACMNoRepublic