The King of Thailand, King Bhumipol Adulyadej, has marked his 82nd birthday with an audience for members of the royal family and senior politicians. Rachel Harvey for BBC News, Bangkok reported that he left hospital for the first time since being admitted for what palace sources said were respiratory problems and loss of appetite in mid-September.
Thousands of people lined the streets to watch The King go to the Royal Palace. Crown Prince Maha Vajiralongkorn, Prime Minister Abhisit Vejjajiva, and the speaker of parliament all gave formal addresses, wishing The King well.
Then, watched by millions across the country, the King spoke briefly. "I ask all of you here who have very important positions in the main institutions of the country" The King said, "to clearly understand your duty and fulfil it with dedication for the good of the country."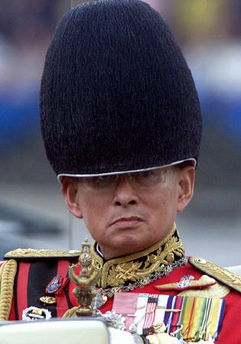 The King has now returned to hospital, but this brief public appearance will have given hope to millions of Thais. They have been hoping for signs that the man often described as the one truly unifying figure in a politically divided country is on the road to recovery.
King Bhumibol, the world's longest serving monarch, is treated with reverent devotion. His portrait hangs everywhere, in shops, offices and on roadside billboards. Two years ago, royal astrologers decreed that the colour pink was auspicious for The King's wellbeing.
In recent days, as The King's birthday approached, increasing numbers of Thais have been seen sporting bright pink shirts.
{youtube}hQqsYtLRRZg{/youtube}