The Prado's collection was founded on the holdings of the Spanish monarchs, the most prodigious art collectors in Europe during the 15th century, writes John McDonald in The fine art of portraiture, The Sydney Morning Herald , 7 July 2012 .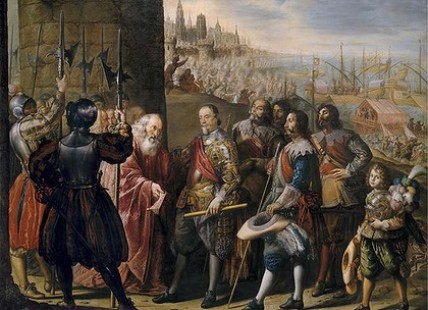 This era, known as the Golden Age of Spanish Painting, featured the importation of many works by masters such as Titian and Rubens, who were idolised by Philip II and Philip IV respectively.
A revered collection of some of Spain's greatest paintings is on its way to Australia to the Queensland Art Gallery opening on 21 July 2012.
…Five must-sees…
Antonio de Pereda y Salgado, The Rescue of Genoa (1634)
Second only to Velazquez's The Surrender of Breda (1634-35), as an epic celebration of Spanish military glory, this was Pereda's attempt to dazzle his royal patrons. The psychology of the scene is dignified and subtle, the paint applied with the skill of a miniaturist.
Diego Velazquez, Philip IV in Hunting Garb (c. 1635)

One of Velazquez's most brilliant portraits of this homely king, who was arguably the greatest of all royal connoisseurs of art. In this image of Philip IV as a hunter, we are meant to see the monarch as the armed defender of his realm.
Francisco de Zurbaran, Martyrdom of St James (c. 1639)

A work that reveals Zurbaran's characteristic mastery of light and shadow in an austere, geometric composition. Note the exchange of glances between the doomed St James and the dog, a departure from the no-frills approach usually demanded by ecclesiastic patrons.
Bartolome Estaban Murillo: The Immaculate Conception of Aranjuez (1670-80)
This painting, which celebrates the Vatican's decision to declare the Virgin's conception to be without sin, has all the sweetness that made Murillo a supreme artist for the Victorians. Yet that same delicate touch has caused his reputation to plummet in the modern era.
Francisco de Goya y Lucientes: The Pottery Vendor (1778–79)

A woman speeds by in her carriage, sealed off from the busy market. In this suggestive image, Goya shows the gap that separates the nobility from the commoners in an age when the spread of the Enlightenment was throwing everything into question.
[Portrait of Spain: Masterpieces from the Prado opens at the Queensland Art Gallery, Brisbane, on July 21. ]