Fifteen years after the Governors of New South Wales were expelled from their purpose built home, Government House, and 165 years after it was first occupied, Governor Marie Bashir will soon take up residence again under a decision of the O'Farrell government.
The return fulfils a commitment made at a public meeting called by ACM at Parliament House on Monday 7 March, 2011. There, the Hon. Marie Ficarra MP, Shadow Parliamentary Secretary to the next Premier Barry O'Farrell, indicated his support to the return of the Governor. The meeting had been addressed by to leading and long-term campaigners, the Rev Fred Nile MLC and the noted broadcaster Mr Alan Jones.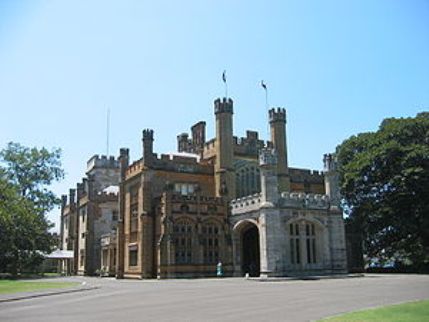 Government House was the home for 27 governors from 1846 to 1996, and for the first five governors-general from 1901 to 1914.
But in 1996 Mr Carr said the expulsion was to open Government House the public, save money and make the position of Governor part-time and bring the office closer to the people.

But the number of visitors did not increase, it was more expensive, and the proposal concerning the Governor had to be abandoned on constitutional grounds. When he resigned the premiership he revealed that the expulsion of the governors was about their reserve powers.
…peaceful protest -over 20,000 come out…
ACM called a peaceful protest in 1996 which brought out over 20,000 protesters. 60,000 signed a petition. Far from being popular as Mr. Carr now claims, it was extremely unpopular. Former Prime Minister Paul Keating said it was the reason why he lost the 1996 election. ACM has continued that campaign in the intervening period.
The Hon. Lloyd Waddy was National Convenor at the time, and recalls the event in this nterview. This is Part 1 " The Expulsion".

{youtube}iGJROapckQ4{/youtube}